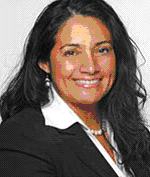 Ready to deal with the ever-increasing complexity of California and Federal tax laws.
Los Angeles, CA (PRWEB) March 08, 2013
The Pun & McGeady Certified Public Accounting Firm is ready to deal with the ever-increasing complexity of California and Federal tax laws. They recently hired two new partners to join their management team, Maria Orellana and Maureen Cronin. Both ladies are joining the Business and Tax Group of the firm. Both partners hold cum laude college degrees and can call on more than fifteen years of public accounting experience.
Maria Orellana
In her career prior to joining Pun & McGeady, Ms. Orellana gained much experience, with tax planning, tax consultation, return preparation, and advisory services for individuals, trusts and entities such as C corporations, S corporations, partnerships, and LLCs with US and international operations. She also specializes in providing accounting and business management services to middle market companies.
Ms. Orellana started her career at a "Big Four" and progressed to serve as a partner and financial advisor for various clients in a broad spectrum of industries at national and local CPA firms. She has served some of the more complex clients, with firms, ranging in size from $15 million to over 1 billion. The range of filers includes both accelerated and non-accelerated filers, and includes also small reporting SEC filers. Maria has also worked with not-for-profit and government entities.
In addition to her public accounting experience, Ms. Orellana has also served as a Chief Financial Officer for private corporations. This has given her opportunity to prepare reports and budgets, and to perform financial analyses, projections and inventory controls.
According to Managing Partner, Mr. Kenneth Pun, "Ms. Orellana possesses strong technical accounting knowledge and is able to communicate clearly to clients. Her big picture perspective enables her to quickly distill what's relevant and important. She is a driven, capable and personable accounting professional. Her fluency in Spanish comes as a real asset to the firm."
Maureen Cronin
Ms. Cronin's expertise is in providing domestic and international income, gift and estate tax compliance, consulting and advisory services. Her practice is concentrated on servicing high net worth individuals and families, including their closely- held entities such as grantor and non-grantor trusts, estates, operating and non-operating C corporations, S corporations, partnerships, LLCs and private foundations. She also has experience in providing tax compliance and consulting services to mutual funds, private equity firms, and public charities.
Prior to joining Pun & McGeady, Ms. Cronin was a partner, principal and/or director for both local and national accounting and advisory firms, including several years at Arthur Andersen as part of their private client service practice.
Before commencing her career in public accounting, Maureen also worked at a multi- generational family office where she served as the key financial advisor to over forty family members as well as a financial planner for Ayco Corporation, a division of Goldman Sachs, where she specialized in providing tax return preparation, planning and financial advisory services to C level executives at Fortune 500 Companies.
Says Mr. Pun about Ms. Cronin, "Her diverse professional background has exposed her to a multifold of complex business and personal situations, allowing her to help identify a myriad tax and financial issues and to offer creative, thoughtful, out-of-the-box solutions and planning ideas to her clients. Maureen is dedicated to serving her clients with integrity and fortitude."
Conclusion
By hiring Ms. Orellana and Ms. Cronin as new partners, the Pun & McGeady Certified Public Accounting firm has added considerable expertise and experience to their management team.
If you would like more information, or to schedule an interview, call (855) 276-5412 or e-mail Pun & McGeady at info(at)pm-llp(dot)com.