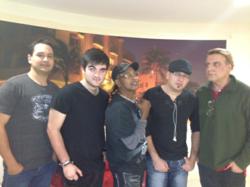 (PRWEB) March 07, 2013
On March the 7th at 6:30 P.M., the Band Traffic Jam will be performing at the Mymedicinetv.com studios.
Traffic Jam is a 5 men cover band, which will be performing the works of the Beatles, the Doors, Frank Sinatra and Bob Marley, a collection of 70s and 80s music.
Current band members are Joseph Farshchian as lead guitarist, Harold Persaud as vocalist, Wilson Vianna as Key board player, Freddy Pereira as drummer and Jack Crown as lead vocalist.
My Medicine TV programs are independently produced by Mymedicinetv.com. The show provides its viewers an in depth opportunity to find solutions to the health problems from some of the top leaders in health care from across the world. Each exclusive segment is taped in their state of the art south Florida studio."The Arthritis Show" is a global information source dedicated to patients with arthritis and sports injuries.