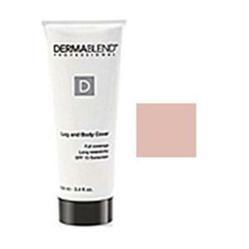 Rachel Goodyear, said, "Dermablend Leg and Body Cover fits right in with the DrSkinSpa line of anti-aging products. Its full coverage effects combined with its sun protective properties leaves the skin smooth and silky and looking years younger."
Anaheim, California (PRWEB) March 26, 2013
DrSkinSpa.com is a highly well-regarded e-commerce site providing skin care products for consumers who desire clinically developed anti-aging innovations that are especially effective. This dermatological web store has a huge inventory of proven skin care lines. DrSkinSpa.com is proud to announce the recent addition of Dermablend Leg and Body Cover to their large family of skin care product offerings.
With Dermablend Leg and Body Cover, consumers can now conceal all types of imperfections on the body without using heavy, caking makeup. The Dermablend company was started in 1981 by a United States dermatologist. The brand is presently the first line of treatment recommended by doctors and makeup professionals. The Dermablend leg cover is the perfect solution for hiding imperfections because of its complete coverage capabilities, its long-lasting wearability, and its anti-aging skin care effects.
Dermablend Leg and Body Cover is a lightweight yet complete coverage foundation. It also contains an SPF of 15 to protect exposed skin from the harmful effects of the sun, which can lead to aging lines and wrinkles. The high purity pigments in this Dermablend leg foundation allow for a wide spectrum of tones and shades for the user to choose from for an individualized look that conceals more completely without looking like makeup.
When a tattoo needs to be covered up, Dermablend leg cover can conceal it, when the correct matching shade is chosen. This product is also excellent for hiding spider veins on the legs, burns anywhere on the body, or stretch marks.
This is also a concealing cream for brown spots or unwanted dark areas anywhere on the legs or body, and it also works to hide varicose veins.
The Esthetician at DrSkinSpa.com, Rachel Goodyear, said, "Dermablend Leg and Body Cover fits right in with the DrSkinSpa line of anti-aging products. Its full coverage effects combined with its sun protective properties leaves the skin smooth and silky and looking years younger."
This product has been dermatologist-tested, and is fragrance-free.
The DrSkinSpa.com skin care site is operated and owned by a medical professional. The site's creator assesses and then chooses only the best quality, scientifically proven products to include in this skin care line. DrSkinSpa.com gives its customers a 14-day money-back guarantee for every item sold. Their site also provides an exclusive 120% price protection guarantee and free shipping of orders. Esthetician consultations are also available at no cost. DrSkinSpa.com is owned by Crescent Health Center and is based in Anaheim, California.