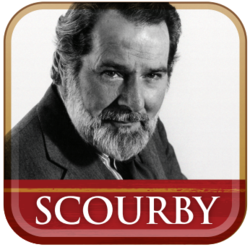 The Newest and Best Way to Access the Bible
Los Angeles, CA (PRWEB) March 18, 2013
Since the advent of Audio Books in the 1950's, the blind, illiterate and functionally illiterate have been able to listen to books they could not read. The first audio book ever recorded was the King James Bible narrated by Alexander Scourby on long play records in the 1950's.
During the next 40 years Alexander Scourby narrated over 500 books for the American Foundation for the Blind. With audio books the physically impaired had an all new way to hear the books they could not read and it was all made possible with the new technology.
Alexander Scourby's most cherished book that he ever recorded was King James Bible which is a bestselling audio Bible book narration year after year. Now with the advent of application software technology known simply as "APPS" and Bible Mp3 Download, the Scourby Audio Bible has also become a best seller and they are helping the physically impaired to learn to both read and hear the Bible.
According to Literacy & Evangelism International, "Literacy means the ability to read and write. In our world today there are at least 1 billion illiterate people (those who cannot read/write their own language) and many more functionally illiterate (those unable to read/write well enough to function in society). LEI estimates that about half the world is unable to read the Bible".
With the Scourby Audio Bible App the physically impaired now have a real tool to help them to either hear what they cannot see or learn to read and become literate. One technique literacy groups use to teach people how to read is to give a text book along an audio book and tell them to listen to the audio and follow along with the text. The app features of highlighting the text being read, enlarging the font and pausing and replaying verses makes it an ideal tool for the illiterate to learn how to read.
Litchfield Associates confirms that it continues to offer the same support to the blind and illiterate, who own modern mobile devices, that will permit them to continue to interact without limitations. The recordings, which were initially intended for the physically impaired and for inspiring others with easy listening, are now available to all through the all new Scourby Audio Bible App and Bible Mp3 Download.
Litchfield Associates recommends visiting scourby.com for more information on the features of the App, take an Bible App tour and listen to Alexander Scourby narrate selected Bible passages from the King James Bible. Prospective users can also see how easy downloading the Audio Bible App is for both Android and iPhone mobile devices.