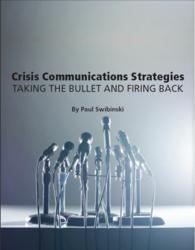 A nasty public crisis can destroy years of hard work building a brand and its reputation. This book draws from our firm's experience over the last 25 years of helping our clients not only survive crises, but thrive. - Paul Swibinski
Secaucus, NJ (PRWEB) March 21, 2013
Vision Media Marketing, a full-service New Jersey public relations and media consulting firm, is announcing the release of a new e-book by its President, Paul Swibinski, providing instructive information on crisis communications including battle-tested strategies, advice and warnings. Titled Crisis Communications Strategies: Taking the Bullet and Firing Back, the e-book consists of five chapters including extended sections on interacting with reporters, holding a press conference, dealing with conflicting advice by lawyers and public relations professionals and integrating social media into your crisis communications strategy. It will be offered for free on the company's website.
"A nasty public crisis can destroy years of hard work building a brand and its reputation," said Paul Swibinski, President of Vision Media Marketing and author of the e-book. "This book draws from our firm's experience over the last 25 years of helping our clients not only survive crises, but thrive. It contains real world advice and strategy that can be applicable to nearly any organization, company or public figure."
The e-book recounts many of Swibinski's experiences while servicing clients of Vision Media Marketing and includes an extended case study on the media circus surrounding the eviction of a disabled veteran from a public housing building that turned out to be far more than initially met the eye. Anyone interested in ordering a copy of Crisis Communications Strategies: Taking the Bullet and Firing Back can visit Vision Media Marketing's website and fill out a form on the home page to be sent the e-book for free via email.
Vision Media Marketing maintains a blog, VMMI Policy Perspectives, and it distributes a quarterly newsletter to clients, colleagues and other interested parties. For more information, please call Philip Swibinski at 201-864-0600 or visit http://vmmi.net.
About Vision Media Marketing
Vision Media Marketing, Inc. was incorporated in 1985 by Jean Swibinski and Paul Swibinski, who continue to direct the company. A full-service public relations and media communications firm with a long history of successfully delivering clients' messages, it specializes in public policy issues and crisis communications. Vision Media helps clients break through today's cluttered media landscape and makes their voices heard.
# # #