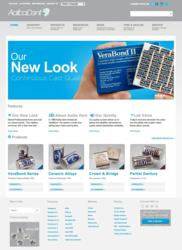 manufacturing the highest quality base metal restorative alloys and supplies
Fairfield, CA (PRWEB) March 05, 2013
Aalba Dent is happy to announce their participation at the upcoming International Dental Show (IDS) in Cologne Germany, March 12 – 16. IDS is the world's largest dental exhibition occurring every two years. Aalba Dent will be exhibiting their updated line of base metal alloys.
Aalba Dent's complete line of casting alloys is now produced using the company's proprietary state-of-the-art continuous casting technology, which produces products that exhibit unparalleled homogeneity, precise alloy chemistry and lower residual gas content.
Aalba Dent has also launched their new website at http://www.aalbadent.com to highlight their updated product presentation. "With the launch of our new website, Aalba Dent is well positioned to better communicate our product's features and benefits and offer more advanced support tools to new and existing distribution partners world-wide," said Vince Benetti, Aalba Dent's President.
Dental laboratory professionals and restorative dental lab suppliers may visit Aalba Dent at the International Dental Show Hall 2.2, Stand E-058 to learn more about the value quality base metal alloys can deliver dentistry customers. The company is also accepting prescheduled meetings for the March 12th – 16th, 2013 IDS 2013 Cologne Germany event. Contact sales(at)aalbadent(dot)com to setup a meeting date and time.
About Aalba Dent
In 1968 Aalba Dent introduced VeraBond – the world's leading nickel-chromium alloy. Aalba Dent's solitary focus has been developing and manufacturing the highest quality base metal restorative alloys and supplies.