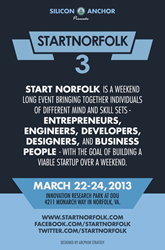 Norfolk, VA (PRWEB) March 07, 2013
Start Norfolk 3 is a weekend long event bringing together individuals of different mind and skill sets— entrepreneurs, engineers, developers, designers, and business professionals —with the goal of building a viable startup.
Start Norfolk will be held at the Innovation Research Park located on the campus of Old Dominion University on Friday March 22nd through Sunday, March 24th.
The first Start Norfolk was held in November, 2011 at Innovation Research Park on the ODU campus. The weekend long event kicked off with 37 business ideas pitched to the team of judges, eight of the 37 ideas were selected for further development. Teams were selected and work began on building the original concept into an viable business. TutoriALL, a tutorial creating app for mobile phones, was selected as the first Start Norfolk winner. TutoriALL received assistance with accounting and legal services, office space and capital to help launch their business.
Start Norfolk 2.0 showcased 73 pitches with over 300 in attendance. D8Night took first place, while Podium Pro and Our Care Direct rounded out the top 3.
With over 500 people attending the first two Start Norfolk's, we are happy to bring you a bigger and better Start Norfolk this spring. Those who attended were highly enthusiastic about the outcome of the event, saying: "I felt like I was the the Woodstock of Technology, it was legendary," and Start Norfolk was a "Titanic event".
Aneesh Chopra, Former Chief Technology Officer of the United States of America, said, "Start Norfolk exceeded expectations in the quality - and number - of budding high growth entrepreneurs ready to take charge in accelerating our economic recovery."
President Obama recently recognized "that most new jobs are created in start-ups."
Start Norfolk, a Silicon Anchor event, is helping to build a stronger entrepreneurial ecosystem in the Norfolk-Virginia Beach region.