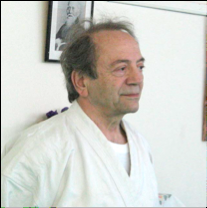 Palo Alto, CA (PRWEB) March 04, 2013
Sofia University (formerly Institute of Transpersonal Psychology) has established an Aikido center on campus and will name it after the late Aikido master, Hiroshi Kato, or "Kato Sensei." As one of the first events held in the newly established Aikido center, Sofia University welcomes Sensei Don Levine for an Aikido workshop titled, "Rediscovering Aikido." The interactive workshop takes place on Saturday, March 9, from 10 am to 3:30 pm. Attendees are being asked for a suggested donation of $100.
Sensei Don Levine has trained for 33 years and holds the rank of yondan (fourth degree black belt) under the Aikido Schools of Ueshiba. Currently head instructor of the Hyde Park Aikido Dojo as well as the University of Chicago Aikido Club, he has taught Aikido classes in England, Ethiopia, Germany, Israel, Japan, and Palestine.
Sofia University founder, Robert Frager, commented, "We are incredibly honored to have Sensei Don Levine hold this workshop at Sofia University. It will be highly interactive and a great learning experience for all who attend."
Levine Sensei is the author of eight books and has published articles on Aikido in liberal education, somatic elements in social conflict, the martial ethos in Ethiopia and Japan, and on aiki elements in psychotherapy. In 1998, he founded Aiki Extensions, Inc. in Chicago. He has also served as Dean of the College at the University of Chicago, and consultant to the United States Government on Ethiopian affairs.
For more information on "Rediscovering Aikido" workshop, please contact: staff(at)aiki-extensions(dot)org.
To learn more about Don Levine, please visit: http://www.donlevine.com/aikido.
To learn more about Aiki Extensions, Inc. please visit: http://www.aiki-extensions.org.
About Sofia University
Formerly the Institute of Transpersonal Psychology (ITP), Sofia University is a private, non-sectarian graduate school accredited by the Western Association of Schools and Colleges. For over 35 years, within the context of scholarship and research, the school has offered transformative education for the whole person, probing the mind, body, spirit connection. As Sofia University, the school is broadening its mission, reaching into multiple disciplines and adding undergraduate study. For more information, visit http://www.sofia.edu.
###