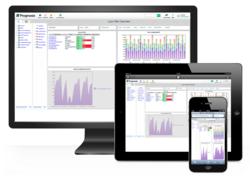 Orlando, Florida (PRWEB) March 16, 2013
Integrated Research (IR) today announced the upcoming release of Prognosis 10. Delivering a powerful web-based user experience, centralized reporting, and a robust architecture update that is ready for Big Data, Prognosis 10 delivers insights from massive amounts of data generated across enterprise communications systems.
Prognosis 10 is faster, more scalable and more secure than ever and leverages a powerful core that takes advantage of significant improvements in processing capacity. The new intuitive web-based user interface is visually rich and easy to navigate – and offers authenticated and encrypted access across the enterprise. For the mobile professional Prognosis real-time insight is accessible on any tablet, smart phone or smart TV that supports HTML5 or the free iOS App 'Prognosis First Responder'.
Integrated Research CEO Mark Brayan said "Prognosis 10 delivers a modern, easy to use web-based experience that provides at-a-glance visualization of multi-vendor UC infrastructure. It provides highly granular and cross-technology insight for effective management of UC ecosystems."
New centralized reporting makes it easier to understand infrastructure usage patterns over time; service level attainment, and optimization of resources and assets. And with a new massively scalable database, extending Prognosis data to corporate business intelligence systems provides valuable input helping them with their Big Data plans.
Brayan concluded "Prognosis 10 provides a solid and scalable mechanism for enterprise insight and analysis. Users can now incorporate their UC data in their datamarts to correlate UC use with other business metrics and leverage UC to fulfil business strategy."
Prognosis 10 will be rolled out globally throughout the next quarter.
For more information visit http://www.prognosis.com/prognosis10