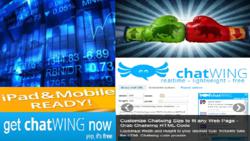 New York, NY (PRWEB) March 19, 2013
For many people, the year 2013 is a period of stock market opportunities and other investments as well. The strong elements attributed to this fact are the major business changes that are occurring in many parts of the world. Realizing the boost of major stock markets worldwide, Chatwing.com has optimized its strategy and launched a chat widget meant to help people gather stock market tips. This new application from Chatwing focuses on global connection and the strength of social media.
Tips can circulate effectively in the chatbox because it can accommodate more than one thousand users daily. The company's developers have tried and tested this capacity many times—starting at 600-user base. Eventually, the developers managed to create a stable platform that can withstand the influx of users. In the stock market niche, developers foresaw that visitors will often discuss the best companies up to date, along with their opinions about inflation and economy.
Seeing that discussions can even move to the realm of social media, the Chatwing team has also added Facebook and Twitter login methods. In Facebook, online stock market analysts can find more friends and relative information. The same notion can be applied to Twitter, wherein tweets deliver news in a swift manner. Recently, the Chatwing chat box also allows Google and Yahoo login methods. This new addition benefited hundreds of visitors who want to experience entertaining discussions.
Chatwing's simple chat tool also has supreme customization functions, and any website owner can utilize these at any given time. Installation of the chat tool takes only seconds, and the customization process can also be accomplished easily.
About Chatwing.com
Chatwing.com specializes in the new field of website chat. Over years, the development team has introduced live chat widget for hundreds and thousands of blogs. The application bridges people from many parts of the world, creating global synergy through the Internet. The shout box can be installed in just seconds, and it can be used for varying purposes such as leisure and Internet marketing. It also allows a user to customize the size, color, and name of the widget.