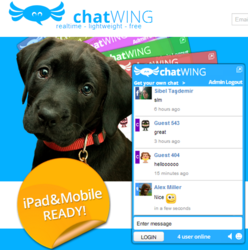 Washington, DC (PRWEB) March 02, 2013
In the world of online marketing, colors and appearances have long ways to go. This fact is based on the efforts of people to beautify their blogs and websites in order to have a shot at the ladder of popularity. Recently, Chatwing.com and its development team introduced new color schemes to the website chat tool. These color schemes are new arrivals but were tested out with small groups of bloggers and website owners.
The blue color set is one of the early add-ons to the Chatwing chat box. In the newest update, the company improved the hues of the blue color set, so that it will appear more convincing and pleasing to the eye. The company's developers also indicated that this color set is effective for blogs and websites that are directed to straight marketing purposes. Usually, the blue color set is accompanied by blog posts that are witty, fun, and offers insights regularly.
Green and red sets can blend well with other font styles and appearances. In the Chatwing dashboard, some background images also invoke the color sets of green and red. These sets are effective in conveying a message and leaving out important questions for visitors. Green sets are used for natural products or foods, while red color sets are perfect for clothing and jewelry.
Other color sets and schemes can be discovered by the registered users of Chatwing chatbox. The chatroom visitors can also share their suggestions about the best color schemes. To give more customization advantages to web users, the Chatwing Team will put up more color schemes and other options in the coming months.
About Chatwing.com
Chatwing.com specializes in the new field of website chat. Over years, the development team has introduced live chat widget for hundreds and thousands of blogs. The application bridges people from many parts of the world, creating global synergy through the Internet. The shout box can be installed in just seconds, and it can be used for varying purposes such as leisure and Internet marketing. It also allows a user to customize the size, color, and name of the widget.