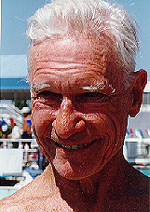 "I was training and competing regularly in Masters Championships... Cancer was the furthest thing from my mind."
ST. PETERSBURG, Fla. (PRWEB) March 07, 2013
When 88-year-old Masters Hall of Fame swimmer and esteemed coach, Paul Hutinger, Ph.D., was diagnosed with squamous cell carcinoma of the nose, the champion took it in "stride." As an All-American athlete, top exercise physiology researcher, and competitive swimmer, with over 800 top ten achievements and 70 current world records over 72 years, Dr. Hutinger was sure his body would stand up to the challenge.
Dr. Hutinger began swimming at just 12-years-old. Learning at summer camp, he began observing the better swimmers' techniques, later practicing at the local public pool. That led to a career as a high school and college swimming coach, while studying for his Ph.D. in exercise physiology. His research with Indiana University led him to coach and swim with now Olympian, Mark Spitz, who held the record for most gold medals in a year, until recently being beaten by Michael Phelps.
Just like his life, Dr. Hutinger's cancer diagnosis was unique – it all started with a routine visit to the dentist. While working on his upper teeth in 2011, the dentist incidentally broke a bone in his nose. As it turned out, a squamous cell carcinoma tumor was wreaking havoc on the cartilage in his nose, weakening the bone.
"With no symptoms or signs on the skin, and the cancer underneath the weakened bone, I don't know how I ever would've found the cancer early enough to treat it successfully," Dr. Hutinger says. "I was training and competing regularly in Masters Championships with the Florida Mavericks and was playing an active role in my health. Cancer was the furthest thing from my mind."
After surgery to remove the bulk of the tumor, Dr. Hutinger visited local radiation therapy provider WellSpring Oncology, and was treated by Board Certified Radiation Oncologist Dr. Robert Miller.
"Dr. Miller is an excellent medical doctor to head up the program at WellSpring Oncology," Dr. Hutinger says. "He has brought in a wonderful staff. Everyone there seems to have some special abilities to sense everything each patient needs. I've never been anywhere or experienced anything like it."
Limitations from Dr. Hutinger's treatment included not going into the water right away. After spending six months just coaching, he found a solution to get back in the water: use a mask that covered his whole face. He competed nationally with that mask and still placed in the top 10 in every race.
Now, with just regular follow-ups, Dr. Hutinger is still training, competing and teaching locally and internationally. With his wife and fellow competitive swimmers, Dr. Hutinger founded a highly successful Masters swimming organization based in St. Petersburg. He credits his survival to his physical condition, expert physicians and positive mental attitude.
"I would recommend for anyone dealing with cancer to always have a positive mental outlook," Hutinger says. "I felt that encouraging attitude was the biggest thing that helped me through the stress of cancer. It's also what has helped me through swimming competitions all these years."
For more information or to make an appointment, contact WellSpring Oncology at
(727) 343-0600 or visit them online at http://www.WellSpringOncology.org.
About WellSpring Oncology:
Doctors Robert Miller, Zucel Solc and Frank Franzese opened the doors of WellSpring Oncology in the spring of 2008 to provide high-end treatment in a more personal and caring environment. The doctors at WellSpring Oncology have been practicing innovative radiation therapy since the 1970's and developed the center to ensure patients have access to the latest technology available in the treatment of cancer. WellSpring Oncology's physicians are all Board Certified in radiation oncology and received their training at the top centers in the country, including MD Anderson, Memorial Sloan Kettering and the University of California, San Francisco. WellSpring Oncology is located at 6600 Sixty Sixth Street North in Pinellas Park, Florida.