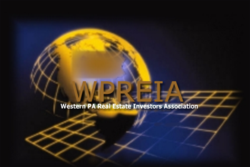 Pittsburgh, PA (PRWEB) March 01, 2013
When an investor comes across a problem or situation in business and just want to run it past a successful experienced investor, well, now WPREIA members can. Jim Zaspel (James P. Zaspel) is an active real estate investor in the Philadelphia area of Pennsylvania. He buys and sells 1-3 houses per week, and he doesn't work the equivalent of full-time hours in his investing business. But that's all meaningless to an investor if you can't learn from him. So, once again, "JimmyZ" has agreed to join the Pittsburghreia.com forum. If you want access to his regular blog posts that are extremely informative, just go to the website http://www.JimZaspel.com where you'll find a daily source of education, inspiration, and motivation for you and your real estate investing business.
Jimmy Zaspel got started investing in real estate at the young age of 22 when he flipped his first house in less than 30 days for a profit of $13,800,not bad for a 22 yr-old. Since then, Jim (http://www.JimmyZHomes.com) has bought and sold well over a 100 houses all throughout the Philadelphia area. He specialized in selling house on lease option (a.k.a. lease purchase or rent to own). Selling houses is on lease option is a large opportunity in today's market. It helps people who have bad credit realize the dream of home ownership when everyone else has turned them down. Jim Zaspel says, "So far as I'm concerned, realtors have the top 15% of the buyers market that has the perfect credit and 30% down-payment. That leaves 85% of the buyers out there for me and my students. Think about it, would you rather have a small or large target-market when it comes to selling your real estate investment properties? We here at JimmyZhomes (http://www.JimmyZHomes.com) specialize in helping folks that everyone else ignores and turns down, it's an amazing opportunity to help people and make money at the same time."
So how does this help a member of the Pittsburg REIA? Members can ask Jim any question in regards to real estate investing. Whether it's about marketing, structuring a business, building an investing team, hiring people, organizational strategies, or a question about a specific deal – Jim can help with all these questions. Having access to James P. Zaspel is going to shorten the learning curve for novice investors. JimmyZ already has a lot of resources for investors on his blog that he updates daily. Be sure to check it out at http://www.JimmyZHomes.com.