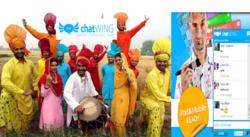 San Jose, CA (PRWEB) March 03, 2013
Based on the statistic gathered by the Chatwing Team in cultural blogging communities, the affinity rate for the company's website chat tool reached up to 55%. Chatwing's simple chatroom has advanced customization features, allowing registered users to design their own color schemes. The developers have indicated that this is the main reason why cultural bloggers and website owners picked the Chatwing app over other platforms.
Cultural bloggers, more often than not, tend to add more colors to their blogs. This is based on the observation done by Chatwing Development Team. Prominent Chatwing color schemes that seem prominent for any cultural blogs are red, green, blue, yellow, purple, and a mixture of orange and cyan. These color schemes can be accessed in the Chatwing dashboard, along with background images, sizes and other important admin parameters.
The Chatwing chatbox has a thousand-user capacity, providing continuous traffic stream for any blog or website. This traffic stream is necessary for the long-term success rate of the blog. Cultural bloggers who encounter many visitors can gather data about new places to discover. Chatwing's social media login function also allows cultural bloggers and visitors to expand their Facebook, Twitter, Google, and Yahoo networks easily.
Cultural website owners have also expressed their admiration to the Chatwing chat box by sharing positive and objective feedbacks, travel links, freebies for the company, and e-cards sent to the Chatwing email. In return, Chatwing.com and its developers will ensure that the chat platform will always perform at an optimum level.
About Chatwing.com
Chatwing.com specializes in the new field of website chat. Over years, the development team has introduced live chat widget for hundreds and thousands of blogs. The application bridges people from many parts of the world, creating global synergy through the Internet. The shout box can be installed in just seconds, and it can be used for varying purposes such as leisure and Internet marketing. It also allows a user to customize the size, color, and name of the widget.