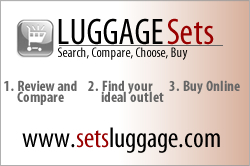 Find one of the largest selections of luggage sets online with tools to select the right one for you at a great price.
Pittsfield, MA (PRWEB) March 13, 2013
Financial Firebird Travel Corporation announced the introduction of Luggage Sets, its newest online destination in a wide range of web sites geared toward travelers, which features a large, easy-to-search selection of luggage sets online, complete with tools to select the right luggage set at a great price.
"Our newest site, Luggage sets, is a long awaited shopping tool that's been in the works for some time," said Mory Brenner, vice president of the company. "This online presence, designed specifically for the luggage set shopper, is a traveler's dream come true."
Luggage Sets stands apart from other web sites selling luggage due to the tremendous variety of luggage sets offered to shoppers with over 300 to browse. The home page features a convenient search form, making it simple to find specific brand names; fun luggage sets; specifically colored luggage, including pink or blue luggage sets; and specific soft or hard shell types for luggage sets. Shoppers can also search for luggage sets in specific price ranges, and are assured that there's a luggage set for literally every budget.
"We provide a site for people to both select a luggage set and compare vendors for a low price," Brenner continued. "Other sites allow viewers to view only their own inventory, in most cases far smaller than ours, and then a person would need to proceed to a second step of finding the best price. Our very large inventory of sets probably stands as the feature that separates us most from other sites. We also provide more ways to select and sort the sets to narrow down choices that meet the needs of the consumer."
The discerning luggage shopper can delight in finding designer luggage sets by Anne Klein, Diane Von Furstenberg, Geoffrey Bean, Pierre Cardin, Tommy Bahama, and more on this incredible new site as well the popular names in luggage set such as American Tourister, Heys and Samsonite. Shoppers can also search for types of wheels, number of pieces, luggage for children, including many Disney luggage sets, and a variety of other options.
Click over to Luggage Sets and browse the choices including some clearance items on the lower right portion on the index page. Right now for example, find a Diane Von Furstenberg Signature 3 Piece Hybrid luggage set with an original suggested price of $1080 selling for only $103.47 after using the Luggage Sets featured discount coupon code, LGSR, displayed at the top of the page. Great deals await all those who take this simple journey prior to a major vacation.
About Luggage Sets
Luggage Sets and its sister sites, geared for the traveling consumer, are affiliated with the Financial Firebird Corporation Travel Group, and stand among the top sites sought by travelers in search of vacation spots, tourist information, and products intended for those who like to explore.