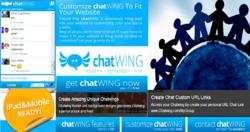 Houston, TX (PRWEB) March 06, 2013
Gathering stock market information is now possible through the recent chatbox developed by Chatwing. According to the company's developers and researchers, the stock market online niche is gaining hundreds of subscribers monthly. As company stocks rise and fall, young investors are now looking for ways on how to invest safely. The Chatwing tool can also be installed to stock market blogs and websites.
Chatwing's simple website chat tool can help stock market investors get their dose of information through global connectivity. During average days, the Chatwing app can accommodate thousands of users of a certain niche. Chatwing's developers are certain that stock market tips can circulate freely, along with some helpful information about the best markets to conquer.
Social media is also one of the strong focal points of the Chatwing chat box. This allows stock market visitors to log in with Facebook, Twitter, Google, and Yahoo accounts. Now, visitors of the chatroom can make new friends, engage in new discussions, and even gain new knowledge about stock market trends. Stock market bloggers can also rely on Chatwing's effective customization functions to attract more visitors.
The Chatwing chatroom has been used in entrepreneurial communities, months ago. The feedbacks gathered were positive, mostly swerving into the chat tool's capability of improving communication rate between blogs and websites. Suggestions were also rampant, and Chatwing's developers processed all of them. By mid-March, the company will launch more features that can help niche explorers gain renewed communication experience.
About Chatwing.com
Chatwing.com specializes in the new field of website chat. Over years, the development team has introduced live chat widget for hundreds and thousands of blogs. The application bridges people from many parts of the world, creating global synergy through the Internet. The shout box can be installed in just seconds, and it can be used for varying purposes such as leisure and Internet marketing. It also allows a user to customize the size, color, and name of the widget.