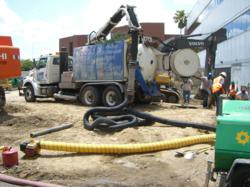 The Robotic Surgery allows for minimally invasive surgery for women who face the diagnosis of cancer of their reproductive organs. - Rick Fender
Orlando, FL (PRWEB) March 18, 2013
Rick Fender, Vice President of Fender Marine Construction was interviewed for this article. "The Robotic Surgery allows for minimally invasive surgery for women who face the diagnosis of cancer of their reproductive organs", Fender explained. Cloud 9 Services, Inc dba Fender Marine Construction was recruited to install (3) caissons by means of hydro-excavation to assist in this improtant project. Further Fender Fender stated, "Florida Hospital has a revolutionary option for surgery called the "da Vinci®" system which combines minimally invasive surgery using robotic technology with the surgeon's skill to perform the surgery using a very small incision." Florida Hospital's new procedure, which has also been used to treat colorectal cancer, is now being used to perform hysterectomies. Now, this once complex procedure is performed with less scarring, fewer complications and less recovery time.
"Florida Hospital Orlando announced plans for a new women's tower, the Florida Hospital Orlando Women's Pavilion, a 12-story 400,000 square foot patient tower that will include more than 300 patient beds when it is complete in 2015," Fender explained. The new building will include other comprehensive services for women and expand their current services already available.
Fender Marine Construction utilized their Aquatech B-10 jetvac trucks to hydro-excavate or pothole the caissons into place. The caissons were constructed of 48" by 8' long steel reinforced concrete pipe set on end. The first pipe was set on the ground vertically followed by our hydro-excavating the soil from inside the pipe. As the soil was removed, the pipe dropped slowly into the ground. After the first section of pipe was at grade, a second section of pipe was placed on top of the first and the hydro-excavation process continued. "Fender Marine Construction's confined space entry team then entered the caissons and installed the vibration sensing equipment per the engineer's direction" reported Fender. The vibration sensors were left in place for 24 hours before they were removed and the caissons backfilled.
"Marine construction in Florida requires not only the appropriate licensing, but it requires special insurance including liability insurance, worker's compensation insurance as well as United States Longshore and Harborworker's insurance" Fender explained. All Contractor members of the Florida Marine Contractor's Association carry the appropriate insurance. "Marine construction is so different from other types of construction that the Florida Construction Industry Licensing Board created a specialty license for the category, known as the Florida State Certified Marine Contractor's License," Fender explained. Fender stated "further, Fender Marine Construction is one of the select marine contractors to hold the license.
Fender Marine Construction is a subsidiary of Cloud 9 Services, Inc. and is located at 1201 West Jackson Street Orlando, FL 32805. Potential clients can contact Fender Marine through our website at http://www.FenderMarine.com or call 407-481-2750 now.