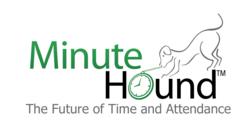 Employee time tracking is a necessity at work, and MinuteHound helps to make that process much easier.
New York, NY (PRWEB) March 19, 2013
"Fast paced," "extended hours," "more efficient processing," and "overtime pay" are terms frequently heard in the workplace. Businesses are striving to keep up with the competition, produce the best product and/or service on the market, and complete these tasks in a manner which pleases their customers. One crucial component of a business's operations is the mechanism by which it tracks labor hours.
Regardless of size, all organizations have employees who make mistakes. Employees arrive late, and every now and then sneak out the door early. So why do companies need biometrics? Here are 5 reasons released by MinuteHound why employers are making the switch:
Saving the Company Money
While timekeeping devices are intended to record hours worked, flawed systems can result in overpayment. This happens when savvy employees are able to cheat the system. With traditional time clock devices workers can easily falsify their hours or have friends sign in for them. Through biometric technology, employees are required to clock-in and clock-out using their fingerprints, making it impossible for co-workers to clock each other in.
Making Information Private
Once employees hear they'll have to scan their fingerprints, a bit of discomfort may erupt in the workplace. Fortunately, MinuteHound is private, safe and secure, as the system automatically converts fingerprint scans into an unreadable code via 128-bit encryption. Biometric technology, combined with MinuteHound's patented unique process, has HR departments rapidly making the switch. No personal information is at risk, privacy is guaranteed, and data is encrypted.
Organizing Details Efficiently
Scouring through an array of paperwork is frustrating. This is especially true at the end of a long workweek. Businesses are increasing efficiency and becoming environmentally friendly by eliminating paper-based systems. Modern technology such as cloud computing allows administrators to simply log-in and view timekeeping data online. Records are stored digitally, no filing cabinets required!
Making Life Easier
Time tracking systems can make a manager's job easier. During the work day, a manager's focus should be on primary operations, not payroll. MinuteHound's one piece fingerprint scanner is extremely easy to use. Additionally, MinuteHound maintains a 100 percent U.S.A. based staff who are ready to answer any related question. MinuteHound makes payroll processing a breeze.
Fits any Budget
The major and most obvious reasons why organizations choose MinuteHound is simple: price. MinuteHound uses a tier-based pricing system ensuring a business only pays for the service it needs. Monthly service cost is based on a company's number of employees and number of locations.
MinuteHound Contact Information
Website: http://www.MinuteHound.com
Email: info(at)MinuteHound(dot)com
Phone: (800) 351-7237