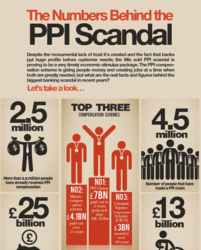 No one could ever have predicted just how much money would be refunded.
Manchester, UK (PRWEB UK) 6 March 2013
Payment Protection Insurance (PPI) hasn't made any friends recently - first it took thousands of pounds from people for worthless cover and now it interrupts dinner-time with computerised sales calls and pings mobiles with endless texts.
Unsurprisingly, there's a good reason for all that time, effort and money being spent on blanket marketing and it sits at around 25%. That's the typical cut claims companies take for handling a mis sold PPI case. The Financial Services Authority released figures in January stating that £7bn was refunded between Mid 2011 and late 2012, with around 50% of these payouts going through a claims company who will take 25%. That puts the amount solicitors and claims companies have taken in fees to around £875m, so far.
It's an eye watering figure and it's not the only one; the PPI claims scandal has thrown up a whole banquet of facts, figures, statistics and numbers that can't fail to drop jaws wherever they go. Speaking about the PPI claims industry, Daniel Martin, Head of Customer Claims at PPIClaimCo.com, commented: "We've seen a steady increase in the number of PPI claims and corresponding settlements from Banks, but no one could ever have predicted just how much money would be refunded. We're only 2 years into PPI refunds and almost double the original estimated bill has already been refunded."
He added: "Some updated estimates put the total bill closer to £25 billion and with May 2014 being discussed as a potential final date for claiming, the numbers are just going to continue getting bigger.
According to the FSA more than 2.5 million people have received a cash payout for being mis sold PPI, with around 50% of claims made through claims companies. Whether it's the car radio, a text or over the phone - PPI claims companies are using every medium to get their message across.
Mr Martin added: "Because we (PPIClaimCo.com) only deal with clients that have come through our website we wanted to put something on there to wow our visitors. With all the stats and figures mounting up, we thought it'd be interesting to throw them all together in an infographic. We think it looks good and has some definite 'wow your mates' facts."
Click here to check out the PPI infographic.