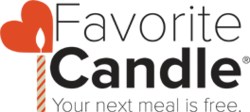 Your next meal is free.
New Brunswick, N.J. (PRWEB) March 12, 2013
FavoriteCandle has created the largest directory of birthday freebies offered by restaurants in the U.S. and Canada.
When asked about his motivation for the website, founder Art Nacht replied, "I recognized the need to publish a searchable database listing all restaurants that provide free birthday meals. The information has always been there on blogs, but they don't show where the restaurants are located. Visitors to the FavoriteCandle homepage just have to type their zip code to get a list of restaurants within 35 miles. Our search results show each restaurants' birthday rewards. The restaurant listings include exactly what meal, desert or drink the guest will receive."
FavoriteCandle's database currently follows more than 200 restaurants with birthday clubs that have over 80,000 locations in the U.S. and Canada. The company uses software developed by the founder to find new birthday offers. Nacht stated that "FavoriteCandle is discovering 20 to 30 new restaurant birthday clubs every month." This proprietary technology also continuously verifies and updates the company's online database of birthday offers and restaurant locations.
The number of restaurants with birthday clubs is increasing as a result of intense industry competition. Not too long ago restaurant birthday perks were available only on a person's birthday. Now, email coupons issued for birthday meals are typically valid for 7 to 14 days. There are some real jewels in FavoriteCandle's directory like Benihana. The Benihana chain of Japanese hibachi steakhouses sends a $30 birthday gift certificate valid for the full month of one's birthday.
Go to favoritecandle.com to see free birthday meals and discounts provided by restaurant email clubs in the U.S. and Canada. No registration is required to search and have full access to the FavoriteCandle directory. Website visitors simply enter their zip code to get an instant listing of restaurants within 35 miles that feature birthday offers. Click here to get a list of exciting birthday offers.