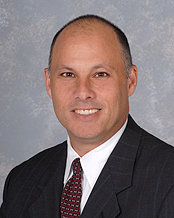 "Paul's talents play an important role in serving our clients and maintaining our Firm as the leading community association law firm in Florida."
Margate, FL (PRWEB) March 05, 2013
Katzman Garfinkel & Berger, the leader in community association law in the state of Florida, today announced that senior attorney Paul Milberg has become a Partner of the Firm.
Admitted to the Florida Bar in 1997 and a Katzman Garfinkel & Berger attorney since 2008, Paul Milberg specializes in complex commercial litigation matters primarily in the areas of contract, real estate, landlord-tenant, probate, consumer and community association law. He is experienced in the area of covenant enforcement and has litigated such matters for Florida condominium and homeowners' associations in the State Courts and with the Department of Business and Professional Regulation.
"We are very pleased to welcome Paul to the Partnership," said Katzman Garfinkel & Berger Founding Partner Leigh Katzman. "Paul's knowledge, commitment, and professionalism will continue to be a tremendous asset to our Firm. Paul's talents play an important role in serving our clients and maintaining our Firm as the leading community association law firm in Florida."
Mr. Milberg teaches a popular course on service animal requests and their accompanying issues entitled "Man's Best Friend; An Association's Worst Nightmare? A Guide to Understanding and Responding to Requests for Emotional Support Animals." This class explains the basics of the Fair Housing Act, the impact of this act upon no-pet communities, and provides strategies to assist boards and managers in handling support animal requests in a manner that best protects the association's interests while maintaining compliance with Fair Housing regulations. Mr. Milberg also specializes in civil litigation, including the areas of landlord-tenant law, contract law, appellate law and litigation relating to the Fair Debt Collection Practices Act.
About Katzman Garfinkel & Berger (KG&B):
Katzman Garfinkel & Berger is Florida's leader in community association law, with clientele that include more than 1,000 of the finest community associations statewide. "Committed to Community," the Firm offers Florida communities a full range of legal services, including general corporate representation, lien collection and foreclosure services and strategies, first-party insurance claim recovery and construction defect litigation.
Unique in its level of commitment to Florida community association education, the firm provides a comprehensive educational program for Board members and managers through the Katzman Garfinkel & Berger Law and Learning Center, including the popular Board Member Boot Camp® seminars and "We Speak Condo" course series. Dedicated to the best interests of Florida community associations, the Firm does not represent developers, banks, insurance companies or other entities with interests adverse to its community association clientele.
For more information and contact details for Katzman Garfinkel & Berger's seven strategically located offices throughout Florida, visit: http://www.KGBLawFirm.com.