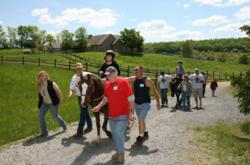 Altoona, PA (PRWEB) March 01, 2013
Dreams Go On (DGO) is on the lookout for a new facility in our area. We will continue to ride throughout the 2013 year at our current location, 3085 Scotch Valley Road, Hollidaysburg, where we provide a specialized riding program designed for our students, assisting them to overcome challenges. Dreams Go On was the dream of Sue Lehman, Founder, and location of our present address. Dreams Go On, Inc. was formed in 2007 and merged with High Hopes, Inc. to create the tremendous program we enjoy today – Dreams Go On, Inc.
Any ideas for the new location in Blair County are greatly appreciated by the group. Dreams Go On is a 501C3 program.
Looking to the future, we are in search of our next DREAMS GO ON facility, which will enable the efforts of their Instructors, Volunteers and Horses to continue to provide the quality program
our Riders have come to enjoy at Dreams Go On. Some of the requirements include:

Six stalls
Pasture 6-10 acres
Indoor arena for riding ---ideal but not required
Outdoor arena—ideal but not required
Parking for visitors, clients, students
Dreams Go On will be moving onto to the next phase in the development of the program. It's an exciting time for all of the Board of Directors, Instructors, Volunteers, and Sponsors, who have made the DGO Program such a rewarding and special organization. We presently serve sixty Riders and are looking for a new location to grow and develop the Dreams Go On mission to provide therapeutic horseback riding sessions to adults and children who are physically challenged, receive mental health, behavioral health or family therapy services.
Help us continue the Dream. Giddy up!