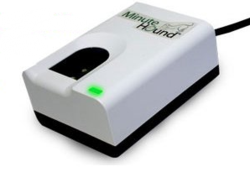 MinuteHound announced that time clock software for fitness chains will have the ability to account for traveling employees and/or rotated employees
New York, NY (PRWEB) March 21, 2013
In this early part of the 21st century, achieving optimal levels of health and fitness have been on the minds of many people. They want to slim down, tone up and make sure their bodies are in good condition. As a result of this increased desire for health, more fitness stores and chains have been opening up across the country. From staffing the front desk to personal trainers, such establishments are hiring more and more employees. MinuteHound has now announced a specific time and attendance solution to focus on this industry.
Train hard and see results. MinuteHound assists those that work hard by providing a set of tools to help manage and organize staff members. When employees enter into the workplace, they swipe their fingerprint on a scanning device, and their time-in is recorded. The same process occurs when they leave the workplace for the day. Such a system allows managers and owners to work on other tasks be it developing new circuit training arenas or figuring out a new recipe for a healthy beverage.
Many of these fitness areas are not just stand-alone units, and hundreds of individual entities could exist. Due to this expansive nature of the industry, district managers could be responsible for work completed by several different buildings. MinuteHound addresses this need by making the system accessible from any place with an Internet connection. Additionally, managers and owners can receive a message if someone comes into work late or does not show up for a shift. Essentially, this means that the individual does not have to be at the physical location to know what exactly is going on there. Reporting can occur across various locations.
In addition, employee's can clock-in or clock-out from different locations. MinuteHound announced that time clock software for fitness chains will have the ability to account for traveling employees and/or rotated employees. Once an employee is enrolled in the system, that employee can use any scanner from any location to record their time.
Fitness chains with multiple locations across town, different cities, or even across country have nothing to worry about. The time clock software designed for gyms and fitness centers makes managing muliptle locations easy. From any single terminal, multiple branches can be managed. Emlployee will also benefit. They will be able to view their digital time card at anytime, from anywhere.
This MinuteHound software designed for gyms and fitness centers already has proven effects. David Ezra of Anytime Fitness states "the MinuteHound System has provided a reliable, cost effective, and easy to implement solution for managing time and attendance". Fitness chains also receive live support by phone or by email.
MinuteHound Contact Information
Website: http://www.MinuteHound.com
Email: info@MinuteHound.com
Phone: (800) 351-7237