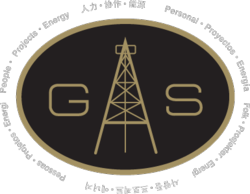 Houston, TX (PRWEB) March 06, 2013
G.A.S. Unlimited, Inc. is a Houston-based Oil and Gas project consulting and employments services company. Since its establishment in 1970, the company has grown into an international network of entities on 6 continents. Twenty one locations, including a Global Service Center, help set G.A.S. apart from the rest of the industry.
In order to better represent the knowledge and capabilities G.A.S. offers the industry, the company redesigned and restructured its website: http://www.gasglobal.com. The new site has been designed around the company's global expertise, as well as improve the development and cultivation of relationships with professionals throughout the industry: a "Management Team" and "Recruiters" page offers visitors easy access to contact information within the company; a blog provides visitors with industry news and career advice on a weekly basis; there is a page dedicated to the company's Global Resource Center: http://www.gasunlim.com/Contact/GlobalResourceCenter.aspx; and links to connect with the company on various social media sites.
G.A.S. will begin work on the Corporate Home within the next few weeks. The Marketing and IT Department anticipate completing that portion of the website in the 3rd Quarter of 2013 before starting work on the development of websites for the company's global entities.