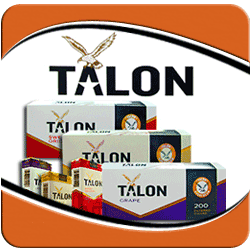 We want to carry something for everyone
(PRWEB) March 02, 2013
TrueTobacco.com, one of the Internet's most popular suppliers of cigars and cigar accessories, has announced that they will be making the popular Talon Little Cigars available to their customers for the very first time.
Talon Little Cigars, a relatively minor brand in the highly-competitive small-to-medium cigar market, are a lightly-flavored smoke designed to appeal to casual smokers and those who want a cigarette alternative. The cigars come in a variety of flavors including Regular Tobacco, Sweet, Vanilla, Grape and Menthol. Talons have been slowly growing in popularity due to their extremely-low price and relatively-long burning time - attributes that have helped make them the perfect smoke for cigar-lovers on a budget or those just developing their smoking palate.
According to Nick Gordon, TrueTobacco.com's GM, the decision to carry Talon's products came from his determination to offer clients of every income level a chance to smoke and save. "We want to carry something for everyone," says Gordon. "If I can offer my customers a carton of cigars for under fifteen dollars, then I'm proud to do so. All my customers deserve access to great items."
Talons and other similar small cigars are normally light-to-medium-bodied, with a quick burn and subtle flavors. Many people smoke little cigars in place of cigarettes in order to get a bit more out of their daily smoke breaks. And thanks to TrueTobacco.com's ability to provide heavily-discounted pricing, their customers can now purchase Talons in bulk and save significantly.
"They're a great product," says Gordon. "And I want to offer them at a great price. That's what our entire site is about: Smokes for every type of smoker for less."
TrueTobacco.com is currently carrying Talons for sale only by the carton, with three flavors - Grape, Sweet and Vanilla – already in stock.
About the Product:
Talon Cigars are made by the Conwood Tobacco Company, which operates a number of plants around the United States. All Conwood products are made with 100% tobacco filler from a variety of areas and are guaranteed to be of the highest possible quality. Conwood specializes in small cigars, producing the aforementioned Talon Little Cigars, Winchester Little Cigars and the slightly more popular Captain Black's brand.
About the Company:
TrueTobacco.com is one of the biggest and most well-stocked discount cigar stores on the Web, offering its customers access to an ever-growing assortment of tobacco, cigars and cigarillos as well a growing number of cigar accessories.