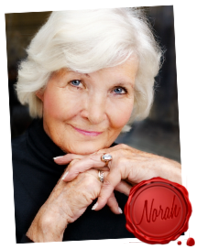 I can turn on the light but you must follow the path. I'm waiting to hear from you now. -- Norah
Phoenix, AZ (PRWEB) March 26, 2013
Some people say that ignorance is the main reason one misses out on life changing opportunities.
What if someone told you when those opportunities would happen?
Preparation is the key to solid success, life fulfillment, and soul satisfaction.
With Norah Guide's New Transition Period Guide to Luck and Happiness – customers will be "in the know" days, months in an advance of those "opportunities" which previously slipped by. But no more, Norah wants everyone to get dreams and wishes fulfilled. It takes listening and being willing to try new things.
It means being "interactive" with the vision one is building. Norah's in-depth knowledge of astrology and ancient wisdom enable her to create the perfect reports for each customer based on their particular information. None of the reports are generalized or so wordy one can't understand them.
Both halves of the psyche will be happy and willing to follow the sound spiritual guidance found inside the Transition Period Guide to Luck and Happiness.
There are too many astrology report services that simply generalize Zodiac information giving no or little regard to the customer's ability to comprehend the information and apply it. Norah makes sure this won't happen with her guides and reports by attuning her spiritual gifts to the needs of her customer-client.
These gifts are reflected in the amazing accuracy of her transit reporting. What are transits? Transits are the cycles and paths of the stars and planet in each astral chart and the interpretation of how each transit will affect the customer-client. It's like making the perfect suit – tailored to fit.
Norah's latest Transition Period Guide to Luck and Happiness is more exciting than any other she has ever prepared for her readers. Readers can now harness their own potential and use it to change their lives with Norah's newest readings! For more information on Norah Guide's - Transition Period Guide To Luck and Happiness – click the link: https://premiumastrology.com/process/purchase_pages/product/index.php .
Premium Astrology is proud to help men and women all over the world enhance the quality of their lives through spiritual enlightenment. Premium Astrology provides fast, reliable astrological reports, and a variety of other services using the experience of Astro-Clairvoyant Norah Guide.
The individual success of each of their clients is the highest priority, and Premium Astrology provides live chat support 24/7.
For more information visit: https://premiumastrology.com/.