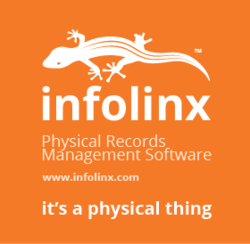 Kensington, MD (PRWEB) March 07, 2013
Infolinx™ System Solutions, a leading provider of enterprise physical records management software, announced the upgrade of Infolinx WEB 1.4 to version 3.3 by Ramsey County, Minnesota. Situated in the second most densely populated county in Minnesota, the Department of Human Services manages close to half a million client records and the number is increasing. Supporting more than one thousand personnel, the Infolinx WEB enterprise solution manages the entire life-cycle of physical records from creation through final disposition..
Now integrated with ECM products like Microsoft SharePoint and Laserfiche, the Infolinx WEB 3.3 application boasts a completely redesigned, browser agnostic application interface, expanded records request capability, improved reporting functionality, and extended security model. These, and other sophisticated features continue to assist Ramsey County as they fulfill their regulatory obligations to manage sensitive information appropriately.
About Infolinx™
Infolinx System Solutions is a leading provider of DoD5015.2-certified enterprise physical records management software. Full life cycle records management for archives, records centers and file rooms includes integrated Enterprise Content Management, third-party warehouse integration, robust searching, online requesting, complete audit history, location reconciliation, supply item ordering, retention schedule and legal holds management, integrated RFID technology, space management with charge-back functionality, extensive reporting capability, advanced security configuration, workflow email notifications, and legacy data sharing. Infolinx maintains clients within all major business segments and the public sector. Infolinx System Solutions Demo.