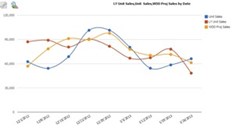 A forward and historical view of weather driven demand has now made ERS' tool even more valuable to us.
New York, NY (PRWEB) March 26, 2013
Enhanced Retail Solutions (ERS) and Planalytics announce a joint venture in order to marry Planalytics' business weather intelligence forecasting system with ERS' POS Analytic and Demand Planning Software. ERS' broad customer base has been able to aggregate sales data from its retail partners' data sources such as spreadsheets, portal data and 852 EDI documents. These vendors then analyze that data with a suite of best practice reporting along with dashboards and ad hoc reporting via ERS' business intelligence tool. A separate module enables retail door level replenishment as well as Wholesale inventory forecasting. Now users can adjust those projections based on the impact of weather.
Many products and industries are vulnerable to seasonal trends which can consequentially cause sales to surge or constrict unexpectedly.
According to Sarah Solari, Sales and Marketing Manager at Duraflame, "As you can imagine, fireplace fuels are seasonally-affected products that can deliver highly variable sell through results as weather patterns change from season to season. Gaining a greater understanding of the weather, and how weather conditions trigger firelog and starter sales, is just one of the tactics we use to create accurate business projections from year to year. Manufactures are being held accountable for understanding retail dynamics more than ever before. The streamlined tool that ERS provides allows us quick visibility of important metrics. Combining that information with a forward and historical view of weather driven demand has now made their tool even more valuable to us."
Planalytics offers a numerical representation of consumer need for a product or service caused by perceived changes in the weather at a given time or location. ERS then incorporates this data and special fields enlisting a series of complex calculations to add the impact of weather to POS analysis and forecasting.
Sarah continues: "Both Planalytics and Enhanced Retail Solutions quickly responded to my request to combine resources. They have collaborated on a solution that supplies me with weekly POS and inventory data in addition to the forecasted lift/ drag in sales units vs. last year based on upcoming weather. As the information updates I can monitor how accurate our sales and weather forecasts are".
About Enhanced Retail Solutions LLC:
Enhanced Retail Solutions is a New York based software and consulting firm specializing in retail analysis and Demand Planning for the manufacturer and their retail partners. ERS' state of the art software tools and consulting deliver critical data quickly, easily and cost effectively, adding over one hundred million dollars to their clients' bottom line. ERS' broad customer base includes industry leaders in the Electronics, Consumer Products, Apparel, Footwear, Home Textile, Toy, Home Decor, Home Improvement, Housewares and Food Industries. For more information, visit http://www.EnhancedRetailSolutions.com.
About Planalytics:
Planalytics is a Business Weather Intelligence provider that gives companies the opportunity to analyze the impact of weather on their business. As the pioneer and premier provider of Business Weather Intelligence, Planalytics gives companies an edge over competitors by translating weather data into powerful insights that are used to maximize the opportunities and minimize the risks presented by changing weather. Planalytics brings measurable benefits to clients in the form of higher sales, improved margins and/or greater market share. For more information, visit http://www.planalytics.com.
About Duraflame:
Duraflame® is America's fire log brand leader, offering a wide variety of fire-related products, including fire logs, fire starters and barbecue products. For over 40 years, Duraflame has proven its leadership in the fireplace fuel category and its commitment to millions of loyal customers. For more information, visit http://www.duraflame.com.