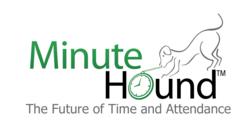 When an employee does not swipe in on time, or swipes out too early, a message is sent.
New York, NY (PRWEB) March 27, 2013
In the world of businesses and industries, it's hard to keep track of every last detail. Customers make transactions on a regular basis, clients are constantly coming and going, and prices seem to fluctuate with the weather.
On top of all this, owners and managers are also responsible for figuring out the hours worked and pay owed for employees. When employees are leaving too early or coming in too late, gauging the pay can be difficult. Fortunately, MinuteHound has been helping industries across the country keep their files in order.
With a paper time sheet, very little accountability exists for employees. It's possible for them to arrive an hour late or leave early but avoid noting it. No one else would ever know since the timecard would reflect otherwise. Some may assume that punch-in clocks don't have these problems as they record the times. However, employees can simply have their friends sign them in and out for the day. Part of MinuteHound's solution is that the system requires a finger or thumb print to verify attendance, prior to recording time.
MinuteHound has recently released text and e-mail alerts. When an employee does not swipe in on time, or swipes out too early, a message is sent to the manager or other person in charge of timekeeping. This person can choose how he or she would like the message to be sent. Some prefer that it comes both through e-mail and text message to be certain that nothing is missed.
Accurate reporting is a major component of this system as it lets managers know what's happening in their companies even if they are not physically present. Once an employee swipes their finger or thumb, the time is ready to be viewed online. Now, the office is virtual and managers can simply log-in from anywhere to view and edit reports. Managing multiple locations are also easily done with the attendance management software release.
The point of these efficient and easily accessible alerts is to save the company money. While employees might assume that only a few pennies are lost, the American Payroll Association notes that $148 billion are lost every year by businesses in the United States because of problems with timekeeping and attendance. These text and e-mail alerts are a major part of reaching a solution to this serious financial problem for businesses.
MinuteHound Contact Information
Website: http://www.MinuteHound.com
Email: info(at)MinuteHound(dot)com
Phone: (800) 351-7237