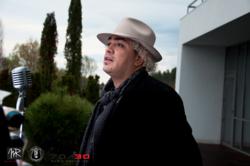 "To Catch A Thief You Need A Thief"
Miami, FL (PRWEB) March 13, 2013
The debut music video for recording artist Dutch Franklin, "Thief Of Hearts," featuring Russian model Masha Rechman, has recently been released. The music video was created by Filatovich Productions and directed by Alexander Filatovich. As one of the most sought after directors, Filatovich is well known for turning music videos into short epic movies – so it came as no surprise when he chose to present the video in short movie format.
This is the first time Franklin and Filatovich have worked together. "Dutch Franklin is one of the best recording artists I've yet had the pleasure of working with. When it came to doing the storyboard for it, we just clicked – and the rest is history in the making," Filatovich said.
The music video takes place in a timeless European setting. In the video, Dutch Franklin performs at a grand estate in front of dancers. With an outstanding vocal performance, he illustrates a love story in which he encounters a beautiful female jewel thief and their criminal ways bring them together.
The story takes place in Europe where semi-retired jewel thief Dutch Franklin is composing music at home on his spare time. One day, he randomly notices through his telescope, a young beautiful woman (Masha Rechman) burglarizing his neighbor's safe. The saga of the two thieves falling in love with each other begins to unfold. Their romance is challenged by her not wanting to give up her passion of becoming the best jewel thief of all time. Dutch Frankin tries to convince her to give up her career as a thief so their love can survive.
About Filatovich Productions
Filatovich Productions is known for directing the edgy film Ruka Na Scaste (2008). He has also directed iconic music videos, including Taisia Povaliy's "I will Pray For You," Alexander Rybak's "Europe Skies," and Irina Dubcova's "Eat Pray Love."
About Dutch Franklin and 70/30 Music Group
Dutch Rocky Torres (Born 22 June) best known as Dutch Franklin, is an Italian American Spanish born artist, songwriter, composer and executive. He is one of the founders of the 70/30 Music Group Inc. along with his partner, Masha Rechman, (http://www.masharechman.com).
To view the video, visit: https://www.youtube.com/watch?v=RYIETHPJyDE