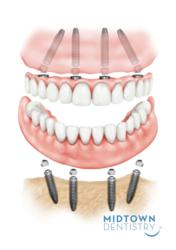 TEETH ON IMPLANTS IN ONE DAY - means teeth can be replaced with dental implants in one day- without significant pain or suffering.
houston, texas (PRWEB) March 28, 2013
Losing teeth is a difficult physical and mental blow to any person. In the past, dentures - a.k.a "plates" were the only option. When dental implants became a reality, they took months to heal - and dentures were still worn for that period.
With the new Teeth on Implants in One Day - a person can have permanent teeth on implants the same day their teeth are removed. This allows them to function without a change in their life.
The Teeth on Implants in One Day starts with meticulous planning using a CT scan of the jaw to plan the location of the dental implants. This plan allows the doctor to build a prosthesis and a guide to place the implants and place teeth on them - all in one day.
Dr. Penchas and Midtown Dentistry are one of the growing numbers of dentists that are trained and experienced in providing these solutions.
Like any medical procedure, there are three tiers of providers:
1) Universities and research facilities that provide the initial invention and research
2) Market leaders - specialists and experts who are involved from the beginning and have the training and experience
3) Majority of dentists - clinicians who are trained, mostly in short dental meetings, and provide a limited treatment in terms of experience and education.
Dr. Penchas and the team at Midtown Dentistry are highly trained. Dr. Penchas is a Prosthodontist specialist and dental implant expert for almost 20 years.
The dental assistants are seasoned and have certification through the Association of Dental Implant Auxiliaries (ADIA).
This means treatment is done in the best facility and with the best possible knowledge to achieve the results.