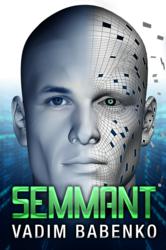 I knew the Russian publishers would never give me what I desire: total control.
Brookfield, WI (PRWEB) March 19, 2013
Dramatic leaps of faith are nothing new to Vadim Babenko, an acclaimed Russian author who is poised to become the next big thing on the American literary scene. Twenty years ago, with only a couple hundred dollars in his pocket, Babenko arrived in the US from Moscow and, along with his Russian partner, co-founded a high-tech company in Maryland. A mere eight years later they stood on the floor of the Nasdaq and watched as shares of their company, InforMax, Inc., were traded for the first time on the US stock exchange. Soon after, Babenko, to the astonishment of everyone, spurned the corporate world to pursue his dream of becoming a writer. He moved to Europe and published five books including two novels, THE BLACK PELICAN and A SIMPLE SOUL, both nominated for Russia's most prestigious literary awards. Not content to simply rest on his laurels, Babenko has surprised everyone yet again by turning down all offers from Russian publishing houses in order to publish his latest book, SEMMANT, himself, and exclusively in English.
"SEMMANT is a very modern book, focusing on the most contemporary concepts and notions," says 51-year-old Babenko. "It's just a natural step to bring it first to the countries accustomed to novelty, particularly the US. I lived here for nine years and understand and appreciate the openness towards new ideas – despite the myths about American conservatism."
SEMMANT was initially written in Russian and then translated with the author's active participation. "It takes a lot of resources and effort to create a perfect, professional-looking book and then market it on your own, but if one can do that, I see no reason to give away rights to the book to some other party," says Babenko. "And now we finally have the channels – such as Amazon.com – to bring books to the widest audience while bypassing the traditional 'middlemen.' It's a publishing industry revolution, no less, and represents an exciting time for writers."
SEMMANT will be available in eBook format from Amazon for Kindle, Barnes & Noble, Apple's iBooks, and other digital publishers in April 2013, and in paperback and hardback from Amazon.com, Barnes & Noble, and other online and retail bookstores in May 2013.
For more information, visit http://www.vadimbabenko.com/