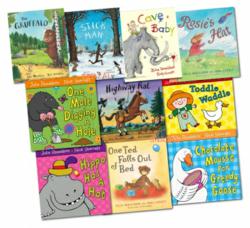 Leicester, Leicestershire (PRWEB UK) 15 March 2013
Gruffalo Collection, Julia Donaldson 10 Books Set. This is a nice series which contains the following books in the series.
1. The Gruffalo
2. The Highway Rat (HB)
3. Stickman
4. Cave Baby (HB)
5. Toddle Waddle
6. One Mole Digging a Hole
7. Hippo Has a Hat
8. Chocolate Mousse for Greedy Goose
9. Rosie's Hat
10. One Ted Falls Out of Bed
1. The Gruffalo
"A mouse took a stroll through the deep dark wood. A fox saw the mouse and the mouse looked good." Walk further into the deep dark wood, and discover what happens when the quick-thinking mouse comes face to face with an owl, a snake and a hungry gruffalo.
2. The Highway Rat (HB)
"Give me your buns and your biscuits! Give me your chocolate eclairs! For I am the Rat of the highway, and the Rat Thief never shares!" Life is not safe for the other animals, as the villainous Highway Rat gallops along the highway, stealing their food. Clover from a rabbit, nuts from a squirrel - he even steals his own hose's hay. Will he finally meet his comeuppance in the form of a cunning duck? This is a fabulous, rollicking rhyme in the style of the famous Alfred Noyes poem, "The Highwayman" from the authors of "The Gruffalo" and "Zog".
3. Stickman
"Stick Man lives in the family tree. With his Stick Lady Love and their stick children three." But, it's dangerous being a Stick Man. A dog wants to play with him, a swan builds her nest with him. He even ends up on a fire. Will he ever get back to the family tree?
4. Cave Baby (HB)
A hairy mammoth takes a cheeky little baby on a thrilling ride through a moonlit landscape populated by a sabre-toothed tiger, a leaping hare, a laughing hyena and even, just maybe, by a big brown bear. But, where are they going? And what has it to do with the baby's scribblings on the cave wall?
Gruffalo Collection Julia Donaldson 10 Books Set Stick man, The Highway Rat is now available at snazal.com