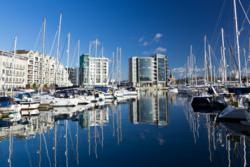 Plymouth is lucky enough to have a local authority that is keen to help the area reach it's full potential and is working hard to support entrepreneurs
Plymouth, Devon (PRWEB UK) 1 March 2013
New research from company formation agents, Duport.co.uk shows a record number of companies were formed in Plymouth during 2012.
There were 1049 new companies formed, more than any other year in the history of the city. This figure also represents a 5% increase on previous year. In addition, net company growth rose from 429 in 2011 to 471 in 2012.
The increase in company formation could be as a result of the council's Local Economic Strategy, which began in 2006 and is set to run until 2021. The strategy focuses on increasing levels of entrepreneurship in the area, as well as enhancing the tourism offering and establishing a clear brand and marketing strategy.
Managing Director of Duport.co.uk, Peter Valaitis commented:
"Plymouth is lucky enough to have a local authority that is keen to help the area reach its full potential and is working hard to support entrepreneurs.
"Our report not only shows a record number of company formations in 2012, it also shows a rise in net company growth, which promises a good year ahead for the city."
The Duport Business Confidence Report for Plymouth provides accurate, up-to-date data that gives an insight into the business landscape. More information and statistics can be found at http://www.duport.co.uk/plymouth.
Duport Business Confidence Reports are generated and released by Duport Associates Ltd. The data contained in these reports is assimilated and analysed by Duport using public record data from sources including Companies House, Office for National Statistics and Ordnance Survey. Duport Associates Ltd is a leading UK company formation agent, established in 1997 and registering around 10,000 new companies each year through its Companies House approved software.