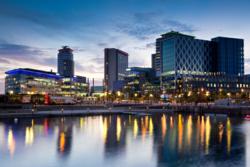 With so many new businesses setting up in the area, the city looks likely to become a very popular location for company formation in years to come
Manchester, Greater Manchester (PRWEB UK) 2 March 2013
The latest Duport Business Confidence Report for Manchester shows that 2012 was a record year for the city in terms of company formation.
There were 10,603 new companies formed during the year - more than any other year on record for the city and 14% rise on 2011. Net company growth also soared to an all-time high, with the company register growing by an impressive 4444 between January and December.
In further good news for the city, it's UK company share rose slightly during 2012. It has been rising steadily since 2012, suggesting Manchester is becoming more and more important to the national economy.
Managing Director of Duport.co.uk, Peter Valaitis said:
"Manchester is an extremely vibrant city with a diverse business base that is helping it to prosper in a difficult economic climate. Our report shows that company formation numbers have been rising sharply since 2008.
"With so many new businesses setting up in the area, the city looks likely to become a very popular location for company formation in years to come."
The Duport Business Confidence Report for Manchester contains a wealth of data and statistics to provide a snapshot of the local economy. More information can be found at http://www.duport.co.uk/manchester/2012/Q4
Duport Business Confidence Reports are generated and released by Duport Associates Ltd. The data contained in these reports is assimilated and analysed by Duport using public record data from sources including Companies House, Office for National Statistics and Ordnance Survey. Duport Associates Ltd is a leading UK company formation agent, established in 1997 and registering around 10,000 new companies each year through its Companies House approved software.