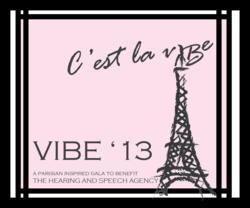 We're thrilled to honor Bob Turk as Communicator of the Year. He's been a true partner to The Hearing and Speech Agency and its mission for many years.
Baltimore, MD (PRWEB) March 03, 2013
The Hearing and Speech Agency (HASA) will hold its fundraising gala, VIBE '13, on May 3 at The Center Club. This year's event is themed "C'est la viBe" and will have a Parisian inspired menu and auction.
HASA will name WJZ-TV's Bob Turk the 2013 Communicator of the Year during the event, which will also include caricature artists, a flower cart, strolling musicians and an array of food and drink. VIBE '13 will be emceed by Mary Bubala of WJZ TV.
Bob Turk was the perfect choice to be recognized as Communicator of the Year. A prominent news personality in Baltimore, Bob received a cochlear implant in 2005. Since that time, he has generously visited HASA to talk to various groups about his hearing loss. One of those visits was to the Little Ears, Big Voices Program, a preschool for children with hearing loss, many of whom wear cochlear implants.
VIBE '13 is sponsored by Dr. Robert & Miriam Zadek and Kramon & Graham, P.A. Additional sponsors are Harbor Investment Advisory, Dr. Howard & Jeri Hessan, Johns Hopkins Medicine and Rosedale Federal Savings & Loan. HASA would also like to thank Advance - The Document Specialists, BMW - Porsche of Towson, Shari & Larry Cooper, Drs. Robert & Gail Liss, Merritt Properties and T.R. Klein & Company.
ABOUT THE HEARING AND SPEECH AGENCY: The Hearing and Speech Agency provides professional services for people who have speech or language disorders, autism, deafness or communication disabilities. Last year, more than 4,000 families throughout Greater Baltimore benefited from HASA's services, which range from speech therapy and audiology to special education programming and interpreting services for the deaf and hard of hearing.
ABOUT VIBE: Vibe will be held on Friday, May 3 at 6:30 p.m. at The Center Club in Baltimore. WJZ-TV's Mary Bubala will serve as emcee. For ticket and event information, call 410-318-6780 or visit hasa.org