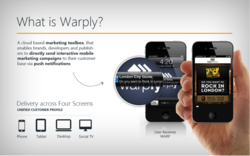 Our work over this period led to a capital raise that will help our plans for USA and UK expansion. This first round of financing is a step towards our long term initiative: establish Warply as the go to platform for app monetization and user engagement
Seattle, WA (PRWEB) March 11, 2013
Warply, a mobile marketing as a service startup, today announced that the company has secured $500,000 in seed funding.
Warply is a cloud based mobile marketing toolbox that enables brands, agencies and publishers to directly send interactive mobile marketing campaigns to their customers in their context across four screens.
Warply targets the mass market of mobile advertisement by providing a tool-kit to manage a new level of interactivity with their apps, increasing mobile marketing campaign redemption rates.
Since launching less than a year ago, Warply has experienced accelerated growth, in part because of its innovative mobile marketing technology that helps publishers target their audience in their context, but mostly because it addresses effectively the ever growing problem of mobile app monetization by delivering highly personalized mobile marketing campaigns through push notifications that lead to direct response actions.
As John Doxaras CEO and cofounder of Warply said "Our work over this period led to a capital raise that will help our plans for USA and UK expansion. This first round of financing is just a step towards our long term initiative: establish Warply as the go to platform for app monetization and user engagement."
The company will use the new investment to build out its executive team and expand in new markets. Warply also announced that Sixto Arias, a serial entrepreneur and founder of Mobext, has joined Warply's Board of Directors as an advisor and the appointment of Kartik Ram as Head of Business Development.
"The team at Warply has built a reliable technology and has achieved impressive growth in a short period of time," said Dimitris Togias CTO and co-founder of Warply. "With its leadership position, innovative culture and strong team, we see huge growth potential in Warply as it brings a much-needed solution to the APP monetization and retention problem"