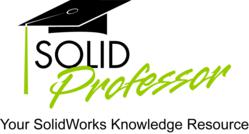 The instruction is clear and easy to follow, and it gets right to the point so we can focus on designing and don't have to spend any more time than necessary learning how to use the tools.
- Chris, Sierra Microsystems
San Diego, CA (PRWEB) March 22, 2013
SolidProfessor's CSWP/CSWE Prep course teaches users everything they need to know to pass the Certified SolidWorks Professional (CSWP) exam, and provides insight to help prepare for the Certified SolidWorks Expert (CSWE) exam. This course familiarizes users with the structure and style of the exam, and walks through sample exercises covering every aspect of the CSWP exam - part design, configurations and part modifications, and assembly design. By completing this course, users will be familiar with the style and level of complexity of questions on the CSWP, and have all the information they will need to ace the exam. Once they've passed the CSWP, there's a section to help prepare for some of the possible question types that might be seen on the CSWE exam, the highest level of SolidWorks certification. There's also a follow-up section showing how to access certificates, logos, and get listed as a Certified SolidWorks Professional or Expert in the online directory.
The 2013 SolidWorks CSWP/E Certification Prep course is included with SolidProfessor Professional or Premium Memberships.
About SolidProfessor
The mission of SolidProfessor is to provide the highest quality self-paced resources for all levels of SolidWorks users worldwide. SolidProfessor products may be ordered direct, or from most SolidWorks Value Added Resellers. For more information, please visit http://www.solidprofessor.com.