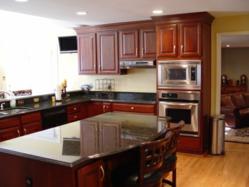 Jabs Construction, Inc. is a fourth-generation of design/build craftsmen. The Jabs family history is rich in the building/construction field.
Washington DC (PRWEB) March 04, 2013
Jabs Construction, Inc. was awarded the "Best of the Best" designation for excellence by Follow Media Consulting, Inc. in the category of Kitchen Remodeling Virginia. This award signifies the continued commitment and dedication of the areas best in home remodeling service.
Jabs Construction Inc. is a full-service design/build residential remodeling company. They are a Virginia Class "A" licensed contractor. Jabs Construction also serves the following areas: Prince William County; to include Lake Ridge, Montclair, Ashland, Woodbridge; Stafford County and Fairfax County; to include Mt. Vernon, Gunstan Hall, Springfield.
The company was started in 1978 as a small family business and maintains that structure today with Jabs Construction still being owned, operated and managed by members of the Jabs Family. Their office staff, master carpenters and experienced crew follow through on all aspects of the project to provide our clients with the attention they deserve and a timely, quality constructed, finished product.
Jabs Construction provides complete contracting services for projects ranging from small trim repairs to whole-house remodeling with an emphasis on house additions, kitchen remodels and bathroom remodels. Many of their projects have been recognized with various design awards. This full-service approach allows Jabs Construction to provide complete contracting services. They will provide a design concept, complete the final design, provide cost estimate and options, and construct the remodeling project.
Visit their website at http://www.jabsinc.com.
About Follow Media Consulting, Inc.
Named one of the best SEO companies by Jonas Marketing, Follow Media Consulting, Inc. is a rapidly growing worldwide firm of SEO, Social Media, and Mobile Marketing Professionals. Follow Media Consulting, Inc. headquarters is located in Richmond, VA. However, our professional team is networked across the world, with regional offices across the United States, in the United Kingdom, Canada, Australia, France, South Africa, the Philippines, and India.