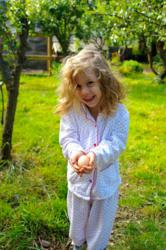 It is the opposite of the long lines and frenzy of children running to get on the next ride at a theme park...
Oroville, Calif. (PRWEB) March 12, 2013
California families will be able to experience farm life, starting Apr. 8, when Feather Down Farm Days opens its first California farm near Oroville.
The farm stay provider has farms in Illinois and New York states, and 55 in Europe. It plans to open additional farm stays across the United States.
Feather Down Farm Days began in The Netherlands in 2003, where it is known as "Het Betere BoerenBed" (The Better Farmer's Bed). It was the vision of Luite Moraal, a former Disney executive and CEO of Center Parks, a series of themed camping-oriented vacation villages throughout Europe. In fashioning Feather Down Farm Days, Moraal mixed a sense of the idealized environments embodied at Disney and Center parks, within the context of a genuine setting.
"It is the opposite of the long lines and frenzy of children running to get on the next ride at a theme park," said Feather Down's U.S. executive Daan van der Starre. "Moraal envisioned a place where families connect with one another and nature. Feather Down's amusements are simple, yet gratifying experiences that folks tell us is the best family vacation they've ever had."
Feather Down stresses authentic farm stay experiences, with its guests staying on traditional family-run farms that specialize in organic produce and growing livestock. Children are able to experience farm life, including farm chores such as collecting eggs, feeding farm animals and tending fruit and vegetables.
"A Feather Down day begins hand grinding coffee beans and collecting eggs for breakfast." van der Starre said, "The day might involve learning how to churn butter or on an outing in the farm hippie bus to Table Mountain's wildflower meadows. Or it could be spent hanging out, relaxing, reading, playing board games or learning about organic farming. Bottom line: it's quality time spent with your kids, relaxing and having fun together in a special place."
Feather Down guests stay in comfortably appointed tent cabins that are described as being "shabby chic," and are outfitted with painted, distressed farm furnishings, candles and oil lanterns, colorful enameled farm utensils, a wood-burning stove, sleeping cupboard, linens, farm sink, a flush toilet, and master bedroom with duvet-covered double bed. Van der Starre said, "They feel like they're from the early 1900s, though they're contemporary interpretations of that time."
Feather Down's California farm is Chaffin Family Orchards a fifth-generation family-run farm that's located on 2,000-acres of heirloom Mission olive, stone fruit and citrus orchards near Oroville and the scenic Feather River Canyon. More about staying at Feather Down farms is found at http://www.featherdown.com.