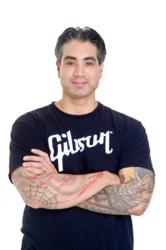 Learning to play guitar can be very intimidating, and getting into playing without a clear game plan will mean many frustrating hours of practice that could have been better spent on actually reaching your musical goals.
Fort Lauderdale, Florida (PRWEB) March 01, 2013
The month of March is "Music in Our Schools Month (MIOSM)." Fort Lauderdale guitar teacher Dyce Kimura is supporting this cause by contributing all proceeds he receives from new students that sign up for a first lesson and mention this article to the music department of American Heritage High School.
The importance of music programs in schools has been heralded and supported by a number of sources. According to an article by Debra Levy of the Denver Post, studies have shown that including musical studies such as learning to play an instrument or class sing-alongs and even drama have impacted the way children learn and process knowledge. Studies have shown that children's academic performance, especially regarding test scores, cognitive skills, and more improve when they participate in music programs. However, music programs all over the United States are facing budget cuts at a dismaying rate to save money.
MIOSM and Fort Lauderdale guitar teacher Dyce Kimura are devoted to promoting quality music programs in education to America's students. In addition to his MIOSM deal, Dyce provides high-caliber Fort Lauderdale guitar lessons to people of all ages. According to About.com, MIOSM, or Music in Our Schools Month, is a month-long event that aims to draw attention to the significance of music education in our schools and community by employing the support of teachers, students, parents, members of the community, organizations and individuals to become advocates for music education.
According to About.com, MIOSM was founded by the National Association for Music Education (NAfME) in 1972, and has garnered increasing support since then. This year's slogan is "Music Lasts A Lifetime." Participating schools and organizations host a number of activities in support of MIOSM that exhibit the talents of students with teachers and band directors. According to About.com, one way that NAfME is supporting MIOSM and imparting their message is through their one-minute public service announcements titled "Why Music?" These messages are sometimes played on the radio and in schools, but can also be accessed on the NAfME website, nafme.org. Additionally, according to About.com, NAfME is hosting the Concert for Music in Our Schools Month, formerly known as the World's Largest Concert. This concert was scheduled for March 14, 2013 at 1:00 PM EST, but this year NAfME is encouraging schools to schedule these concerts based on their individual schedules. There are many ways to support MIOSM - attending one or more of the concerts, informing the state legislation of your feelings regarding music programs in schools, or simply partnering with Dyce by signing up for Fort Lauderdale guitar lessons and mentioning this article.
Dyce Kimura is a highly-regarded Fort Lauderdale guitar teacher. A legitimate, full-time guitar instructor, he rose straight to the top of Fort Lauderdale's competitive music scene as a recording session pro and top-flight guitar instructor. For years, Dyce Kimura has been a favorite with everyone from beginners and kids to intermediate players and semi-pros. Now, through the power of the internet, Dyce reaches avid students from across the globe directly with his Skype guitar lessons. To learn more about MIOSM and NAfME and for more MIOSM activities, visit nafme.org. To learn more about Fort Lauderdale guitar teacher Dyce, his unique teaching methods, and his various locations, contact him at 786-457-3687 or visit dycekimura.com.