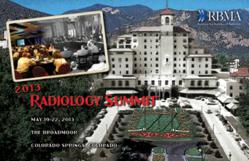 The RBMA provides critical information through expertise and dedication to the field of radiology business. RBMA has provided me with the most up to date information and networking opportunities to assist me in performing at the highest level.
Fairfax, VA (PRWEB) March 04, 2013
The Radiology Business Management Association (RBMA), an industry leader in providing members with applied business information and intelligence applicable in any radiology setting, has opened registration for the 45th annual Radiology Summit at The Broadmoor in Colorado Springs, Colorado. Just as Spencer Penrose set out to make The Broadmoor a world-class resort, RBMA began with a mission to offer high-quality radiology business education not found elsewhere. When the two join together this spring, be prepared for three days of excellence that only two top-notch organizations can generate.
The Radiology Summit will open with a morning golf tournament at the Broadmoor Golf Club – Mountain Course. The Exhibit Hall Grand Opening will take place Sunday evening after a reception for new members and first time conference attendees.
On Monday morning, May 20, 2013, John Sileo, CSP, will deliver the keynote address, "Spies, Hackers and "Online Attackers: Bulletproofing Your Privacy and Profits in the Digital Age." Sponsored by Physicians Business Network (PBN) this session will offer valuable information on protecting digital property and using technological innovations to your benefit.
The conference will continue with four additional general sessions: "The Captive LLC: Gaining Strategic Hospital Alignment While Retaining Independence," with Edward R. Gaines III, JD, CCP, and David A. Myrice, CPA, MBA; "RBMA Live! – Radiology in the Post Election Era: Now What?" hosted by Bob Still with invited guests Tom Greeson, JD; Patricia Kroken, FACMPE, CRA, FRBMA; and Joseph White, CPA, MBA, CMPE; "The Magic of the Mouse: Bringing the Florida Theme Park Experience to Your Patients," with Scott Brown; and "Five Minute Forecasts on the Future of Imaging" provided by experts in the field.
Registrants will have the choice to attend over 15 concurrent sessions as well as learning labs and roundtable sessions.
The Radiology Summit will offer a full exhibit hall with over 80 companies showcasing industry products and services. RBMA sponsors are among the companies exhibiting at the Radiology Summit. Through sponsor support RBMA is able to offer the quality education members expect from a trusted organization.
The Radiology Business Management Association is a national not-for-profit association that provides members with applied business information and intelligence applicable in any radiology setting. Established in 1968 in recognition of the need for resources for radiology management professionals, RBMA has approximately 2,400 members involved in various management capacities in private practices, academic radiology groups, imaging centers and radiology departments. The RBMA continues to be recognized as the leader for radiology-specific educational programs, products and services.