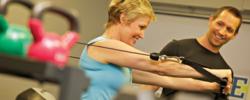 At Fitness Together of Tysons, VA, our goal is to provide you with quality, private, one on one personal fitness training. The Fitness Together philosophy of "1 Client 1 Trainer 1 Goal" says it all.
Washington, DC (PRWEB) March 30, 2013
Fitness Together Tysons was awarded the "Best of the Best" designation for excellence by Follow Media Consulting, Inc. in the category of Fairfax Fitness. This award signifies the continued commitment and dedication of the areas best in health and fitness programs.
People sometimes wonder why killing themselves in the weight room, buying the latest greatest diet book, or waking up early to get a morning run in may help them feel like they're getting in better shape - but still falls short? That's because people need the right strength, cardio and nutrition approaches all working together. Fitness Together's proprietary systems work in harmony, utilizing the most current science for a complete fitness solution.
All Fitness Together trainers hold degrees and additional certifications and fitness training. They also undergo a rigorous in-house training program where they become experts at helping people succeed. At different times a good trainer should function as a colleague, coach, or teacher.
Fitness Together also offers 3 unique fitness programs in their gym:

Aspire 8 resistance training program utilizes personal assessments, functional cross-muscular training approaches, and periodization techniques to change things up for continued results.
Cardio Together offers a customized cardio prescription that combines fartlek, interval, and tempo workouts with a focus on exercise frequency, intensity, duration and progression to achieve maximum results.
Nutrition Together offers an educational and accountability framework to improve eating lifestyle. By eating the right foods, the right portions and the right frequency, along with other programs the results are truly amazing.
To know more about their health and fitness program, visit their website at http://www.fttysons.com or call them at 703-289-9909.
About Follow Media Consulting, Inc.
Named one of the best SEO companies by Jonas Marketing, Follow Media Consulting, Inc. is a rapidly growing worldwide firm of SEO, Social Media, and Mobile Marketing Professionals. Follow Media Consulting, Inc. headquarters is located in Richmond, VA. However, our professional team is networked across the world, with regional offices across the United States, in the United Kingdom, Canada, Australia, France, South Africa, the Philippines, and India.