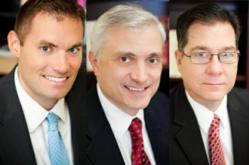 Washington, DC (PRWEB) March 01, 2013
Fluet Huber + Hoang is honored to welcome three prominent DC lawyers to the firm as partners: Christian B. Nagel, Thomas M. Craig, and Lee Dougherty. FH+H will host a reception at the Army Navy Country Club in Arlington to celebrate and honor the new Partners.
As a Partner with Fluet Huber + Hoang, Chris Nagel represents individuals and entities in a wide variety of matters, including corporate structures, business transactions, and government contracting, as well as civil litigation and estate planning.
Before joining Fluet Huber + Hoang, Mr. Nagel was a solo practitioner and Of Counsel to the law firm Gammon and Grange, PC.
Mr. Nagel also is a reservist in the United States Marine Corps. While on active duty, he deployed to Afghanistan where he was responsible for adjudicating claims against NATO and the United States government. His other active duty tours included serving as a Special Assistant United States Attorney, as the Officer-in-Charge of the Quantico Legal Assistance Office, and as a military prosecutor.
Prior to his service in the Marine Corps, Mr. Nagel worked on Capitol Hill and at the White House. Full Release here.
Thomas M. Craig represents, advises, and counsels individuals and entities in a wide variety of matters, including complex civil litigation, sensitive government inquiries and internal investigations, government contracting, export and other regulatory compliance, structuring business transactions, and criminal defense. Mr. Craig specializes in high profile and high risk matters that require comprehensive coordination of legal, media, political, and consulting efforts.
Before joining Fluet, Huber + Hoang, Mr. Craig practiced law at Williams & Connolly LLP. Mr. Craig earned a Bachelor of Science in Economics from the University of Illinois and graduated magna cum laude from Georgetown University Law Center.
Mr. Craig also had a distinguished military career, serving over 21 years as an active duty Marine, primarily in intelligence and counterintelligence billets. Full Release here.
Lee Dougherty practices in the area of Government Contracting. He has experience in all phases of government contracting at the Federal, State and local level, from contract formation through contract administration and conclusion. His experience includes bid protests, negotiated procurement disputes, terminations for convenience and defaults and litigation. He has unique experience in government fraud investigations and DCAA audits, False Claims Act investigations, Contracts Disputes Act issues, suspension and debarment, Qui Tam cases and other administrative and criminal investigations and litigation. He also has extensive international experience in procurement law both in Europe and in Asia.
He is recognized for his work in the area of Bid Protests and in 2012 he represented clients in more than 25 protests. He writes a weekly article for the Washington Business Journal called "Battle Lines" where he reviews a GAO bid protest decision and explains its relevance to the contracting community.
Before joining Fluet Huber + Hoang PLLC, Mr. Dougherty was active as a member of the US Army Reserve Judge Advocate Corps (JAG). He served multiple tours of duty in Iraq and Afghanistan as advisor to Joint Special Operations Task Forces. Lee has an extensive background in Army Special Operations and is a graduate of Ranger, Airborne, Air Assault and Pathfinder Schools. Lee also served as a legal advisor to military commands in Europe and in the Pacific. In 2008, Lee was selected as the legal advisor to the European Special Investigation & Fraud Field Office (ESIFFO). In 2010, he was asked to go to Southeast Asia to advise the Government of Timor-Leste. He is currently attached to the Army Judge Advocate School where he teaches Government Contract Law. Mr. Dougherty is a zealous advocate for Veteran business owners. Full Release here.
About Fluet Huber + Hoang PLLC
Fluet Huber + Hoang was started by former big firm lawyers with the vision of a full service law firm that focused on (1) improving lives; and (2) helping businesses grow. From 1 lawyer in 1 office with 1 client, FH+H has rapidly grown to 25 lawyers and staff with 146 years of legal experience in 3 offices serving 250+ individuals and 100+ businesses, from startups to multinational corporations. For more information, visit http://www.fluetlaw.com.