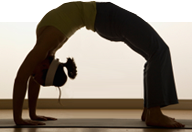 Come to relax, to heal, and to find an even deeper connection to yourself and community. Whatever your bliss is, you will find it at Mind Your Body Oasis.
Washington DC (PRWEB) March 06, 2013
Mind Your Body Oasis was awarded the "Best of the Best" designation for excellence by Follow Media Consulting, Inc. in the category of Yoga in Arlington VA. This award signifies the continued commitment and dedication of the areas best in health and wellness center.
Mind Your Body Oasis is designed to be an oasis: a place to relax, heal, augment health, and escape from the stressors of daily life right in the middle of Crystal City. They offer multiple types of yoga classes, Pilates classes, and even dance classes in 2 state-of-the-art studios, the Hot Studio and the Zen Room. No matter what someone's fitness passion is, they will be able to follow it and maybe even find a new passion along the way.
Mind Your Body Oasis primarily offer Yoga and Pilates classes to strengthen the body and mind, various types of massage to release lingering tension, Nutrition and Wellness coaching, and Infrared Heat Therapy to let the body detox from the inside out. Their licensed, experienced, and compassionate teachers and therapists offer the latest in alternative fitness techniques, skin treatments, body treatments, anti-aging therapies, and nutritional wellness.
Mind Your Body Oasis is founded by Amanda Shipe and is also its current CEO. After an injury which she was advised that she was not able to walk again, Amanda started intensive acupuncture therapy and began Pilates to maintain her workout regimen. A lot of surprising results followed: Amanda strengthened her knees, significantly decreased her waistline, avoided surgery, and felt the extremely powerful benefits of an exercise that works with (rather than against) the body. She began practicing Vinyasa and Hatha Yoga, became certified to teach Pilates in 2007, earned an additional certification in Power Pilates in 2010, and earned her Yoga Teacher certification in 2011. She has taught privately and at many fitness outlets in the DC area.
Visit their website at http://www.mindyourbodyoasis.com or call them at (703) 567-1290.
About Follow Media Consulting, Inc.
Named one of the best SEO companies by Jonas Marketing, Follow Media Consulting, Inc. is a rapidly growing worldwide firm of SEO, Social Media, and Mobile Marketing Professionals. Follow Media Consulting, Inc. headquarters is located in Richmond, VA. However, our professional team is networked across the world, with regional offices across the United States, in the United Kingdom, Canada, Australia, France, South Africa, the Philippines, and India.