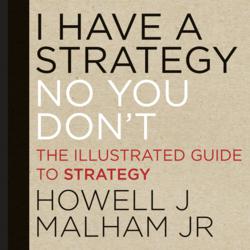 San Francisco, CA (PRWEB) March 04, 2013
"Strategy."
It's one of the most overused and least understood words in business.
The marketplace is inundated with strategists who don't fully understand "strategy" designing strategies for people who don't know what "strategy" means.
This is a problem, according to Howell J. Malham Jr. A big one. And it's why so many "strategies" are doomed from the start.
With verve, wit and plenty of plain-spoken wisdom, Malham calls out the embarrassing, often costly reality that the emperor has no clothes in I Have a Strategy (No You Don't): The Illustrated Guide to Strategy. (Jossey-Bass; $22.95; February 2013, 978-1-118-48420-3). Co-founder of Insight Labs and "recovering" brand strategist, Malham eschews the usual, textbook business speak—what he calls the "language of obfuscation"—and defines and explains the elements that comprise a successful strategy.
Clearly. Concisely. And no obfuscation.
I Have a Strategy (No You Don't) is packed with insights, and a range of examples from Clausewitz and Napoleon to U.S. foreign policy, Soviet Communism, the epic battle between Boeing and Airbus, and crowdsourcing. Further, Malham fully appreciates how globalization has changed the game and how our thinking about strategy needs to change with it.
It's a smart, clever and desperately needed book.
Howell J. Malham Jr. is co-founder and director of Insight Labs, a humanitarian foundation that convenes the smartest, most influential people to tackle the world's toughest problems. Most recently, he worked with NASA, Harvard Medical School, Starbucks, United States Holocaust Memorial Museum, and TED. He is a writer for some of the nation's leading newspapers and a former brand strategist. ihaveastrategy.com