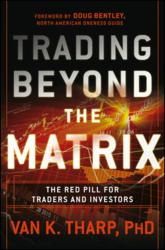 Hoboken, NJ (PRWEB) March 11, 2013
In the sci-fi movie classic The Matrix, the hero, Neo, was given a choice: take the red pill and see the world as it truly is, or take the blue pill and wake up in his bed believing whatever he wants to believe. Of course, Neo takes the red pill, and the adventure begins. Now, what if there was a real Matrix and a real red pill?
The newest book from trading coach Van K. Tharp, Trading Beyond the Matrix: The Red Pill for Traders and Investors (Wiley; $40.00; March 2013, 978-1-118-52566-1), is the reader's red pill and will lead them on a journey to dramatically improve their trading results and financial life by shining a light on the engrained ideas, beliefs, and perceptions that influence every one of their trading decisions that may keep them from the success they deserve.
In Trading Beyond the Matrix, Tharp takes the reader by the hand through the steps of self-transformation, from incorporating "Tharp Think"—ideas drawn from his modeling work with great traders—making changes in themselves so that they can adopt the beliefs and attitudes necessary to win when they stop making mistakes and avoid methods that don't work. The book also offers:

Three different levels of transformation to improve as a trader and to become a happier person.
Real success stories of people who have changed their trading significantly as a result of adopting these concepts.
Learning how to meet objectives.
Statistical methods for understanding the market.
How to determine if one's beliefs (programs) are useful or not.
Two different methods of dealing with internal conflict.
Nine steps to master onesself.
And much more!
Helping others become the best trader or investor they can be has been Van K. Tharp's mission since 1982. Dr. Tharp offers unique learning strategies, and his trading education techniques for producing great traders are some of the most effective in the field. In the unique arena of professional trading coaches and consultants, Tharp is an internationally recognized expert.
More than just another collection of "sure-fire" trading strategies and techniques, Trading Beyond the Matrix takes the reader on a journey of self-discovery, during which they will come to understand who they really are, how their personal psychology affects your every decision, and what, with Dr. Tharp's guidance, they can become: whatever they desire… even a Super Trader.
Visit http://www.matrix.vantharp.com to download the mini-book and see the special offers.
VAN K. THARP, PhD, is President of the Van Tharp Institute, where he uses a combination of skills and education to fine-tune his strategies to coach, consult, and teach traders and investors. Dr. Tharp is the author of five acclaimed books: Super Trader, Trade Your Way to Financial Freedom, the New York Times bestseller Safe Strategies for Financial Freedom, The Definitive Guide to Position Sizing™ Strategies , and Financial Freedom Through Electronic Day Trading. He received his PhD in psychology from the University of Oklahoma Health Science Center in 1975. He is a Master Practitioner of Neuro- Linguistic Programming (NLP), a Master Time Line Therapist, a Modeler of NLP, and an Assistant Trainer of NLP. He has used his expertise in NLP to create a number of trading and investing models for generating consistent profitability. Tharp has been featured in Forbes, Barron's, Technical Analysis of Stocks and Commodities, Investor's Business Daily, Futures and Options World, and Trader's Journal. He has given talks and workshops in over 25 different countries.