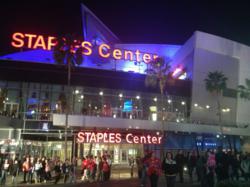 Alumni Association events are a great opportunity to see "how well Sober College can work" and gives newly sober individuals a chance to build a network of their own. - Daniel M, Sober College Alumni
Woodland Hills, CA (PRWEB) March 20, 2013
Building a community of support is a key component to maintaining sobriety, especially for young adults in early recovery. Not only does Sober College embrace its student body while they're in treatment, but also after they've graduated from the program, which is why the Sober College Alumni Association is of great importance to its young adult community.
Just recently, the Alumni Association sponsored a LA Clippers outing where 28 Sober College graduates and 5 staff attended the game in a high style. This included: a private entrance suite, VIP treatment, unlimited snacks and soft drinks, a Sober College t-shirt, water bottle and prime exposure to the game. The goal of the Alumni Association is to help students build a community upon leaving Sober College. Alumni Coordinator, Jenna Patronete says, "Events like this allow our alums to connect in a sober environment and make sober friends; this is the foundation to sobriety."
According to Patronete there are challenges to coordinating an Alumni Association, she says, "Sometimes our past students are not always sober; the goal is to protect those you have at our events but also support those who struggle." She wants those who may not be sober to know Sober College is there for them. That's why a network of sober individuals is crucial to those in early recovery and events such as the LA Clippers game proves to new graduates that life in sobriety can continue to be fun.
Daniel M, a Sober College graduate, attended the event and says, "It was nice to see familiar faces, to reconnect, hang and have fun." He says Alumni Association events are a great opportunity to see "how well Sober College can work" and gives newly sober individuals a chance to build a network of their own. Also, he says, "It was fun trying to get on the Jumbotron."
The Sober College Alumni Association seeks to sponsor four events a year, "We want to have legitimate activities for alum to participate in—that way they can stay connected to each other and we can stay connected to them" says Patronete. There's nothing more fun than spending time in a sober environment with people who support you no matter what—this is what Sober College seeks to do, be it in treatment or after graduation.