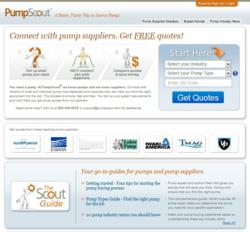 Pump manufacturers who don't have a presence on PumpScout.com are missing out on the thousands of buyers.
Tacoma, Wash and The Netherlands (PRWEB) March 29, 2013
European pump manufacturers can now get real-time, qualified sales leads for their products from pump buyers around the globe, thanks to PumpScout.com.
PumpScout's innovative web service provides European suppliers with an immediate, cost efficient presence in the North American pump market and more. PumpScout places its partners and their products in front of more than 50,000 potential buyers every month to sell more pumps.
"We're excited for the opportunity to partner with European manufacturers," says Justin J. Johnson, PumpScout CEO. "We've received tremendous feedback from our U.S. partners. We know we can bring the same high-quality leads to European manufacturers – and ultimately help them sell more pumps."
PumpScout's recently announced partnership with the Netherlands-based pump firm ESE Europe gives European manufacturers access to a local representative. ESE President Tom Clark will introduce the benefits of PumpScout to potential partners in Europe.
Clark, with ESE, says that PumpScout gives companies the chance to promote their products in a global marketplace, regardless of their geographic location. Companies glean immediate value from PumpScout, which introduces their products to new customers – and provides them with quality, timely and actionable sales leads.
"PumpScout.com is fast-becoming the go-to site for buyers looking to source pumps," Clark says. "Manufacturers who don't have a presence on that site are missing out on the thousands of buyers."
Clark continues, "Companies generally expect to spend roughly $200,000 per year for a sales manager in the U.S. The PumpScout service is a fraction of that cost and delivers high value, qualified customers who have requested a quote for company's specific product. It's a great model for European manufacturers and suppliers to get into the U.S. and other markets without spending a lot."
PumpScout.com provides pump buyers with a better, faster way to source pumps. The service allows buyers to enter their pump system requirements and then receive quotes from the appropriate pump suppliers for their projects.
PumpScout verifies the buyers' contact information to ensure that its partners are receiving quality leads, and sends the leads – complete with information about exactly what the buyer needs – often within an hour of the buyer using the service.
PumpScout has already secured nearly two dozen North American pump manufacturers including industry leaders Patterson Pump, Vaughan, EBARA, Ruhpumpen, Wilden Pump, Griswold, Blackmer and Iwaki-America. PumpScout recently re-launched its site to include metric units for non-U.S. buyers, and multiple language options are soon to follow.
About PumpScout
PumpScout is an innovative web service offering pump buyers a better, faster way to source pumps. The service allows buyers to enter their pumping system requirements and get quotes from the right pump suppliers for their project. PumpScout.com also features pump expert advice, tools and tips on buying and maintaining all kinds of industrial pumps, and industry news.
For pump manufacturers and suppliers, PumpScout offers a service to generate high value leads and increase sales.
For more information, visit PumpScout.com.