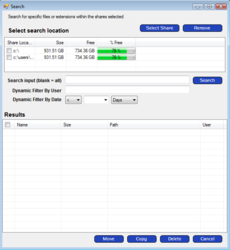 We locate previous employees data as part of a separation policy to move to archive and make a final backup after hours all from True File.
- John T.
Round Rock, TX (PRWEB) March 13, 2013
The problem starts small then impacts management and backup cost dramatically over the years. Hidden contributors drive up the cost of doing business very quickly. Using an intelligent process to locate specific files and True Duplicates to manage data throughout it's life cycle will reduce the cost to store and backup data with a very clear reduction to the cost of doing business.
TrueFile is a new product from Storworks LLC that should be part of an employee separation policy to locate files and archive off the expensive network storage to help control cost and compliancy.